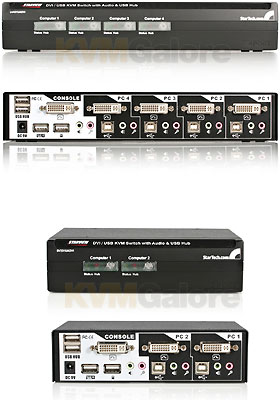 2- and 4-Port DVI USB KVM Switches with Audio and USB 2.0 Hub.
These DVI+USB KVM Switches (with Audio and USB 2.0 Hub) allow you to control up to 4 USB-enabled multimedia computers with DVI video interfaces, using only one USB keyboard, mouse, monitor and a set of speakers and microphone.
A cost-effective and versatile KVM solution, the DVI+USB KVM switches feature an integrated, 2-port USB 2.0 hub that lets selected computers access shared high speed USB devices, eliminating the cost of duplicate USB peripheral purchases.
The DVI KVM switches support audio and microphone switching functions and allow you to select connected computers, USB device hub ports and audio/mic channels either simultaneously or independently, using keyboard hotkeys.
Ensuring high quality video capability, the DVI KVM switches support display resolutions of up to 1920 x 1200.
Designed for durability and dependability, StarTech.com's 4-Port DVI+USB KVM Switch with Audio and USB 2.0 Hub is backed by StarTech.com's 1-year Warranty and free lifetime technical support.
• SV431DVIUA model also offers the option to get rack-mounted.
• SV211KDVI model supports Mac, PC and Linux operating systems.