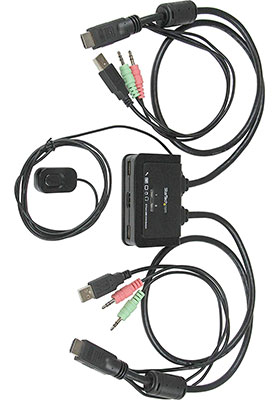 DisplayPort, HDMI and VGA cable KVM switches
USB-powered with integrate/molded cables, superior video quality, audio and optional remote control switching
---
These cable KVM switches support superior video quality, offering a high resolution solution for accessing and controlling two desktop computers from a single keyboard, monitor and mouse peripheral set.
A complete KVM solution, these cable KVM switches include all of the cables and connections required to share one monitor, keyboard and mouse, as well as speakers, across two computers. Plus, these switches feature independent audio/microphone switching to ensure an uninterrupted audio experience, even when switching between computers.
Compatible with Mac, Linux or PC based computers, these switches are the perfect addition for a broad range of environments, and because of their space-saving "KVM-on-a-cable" design, no desk space is required for installation – an ideal choice for most environments, including SOHO (small or home offices), gaming, multimedia production workstations and more.