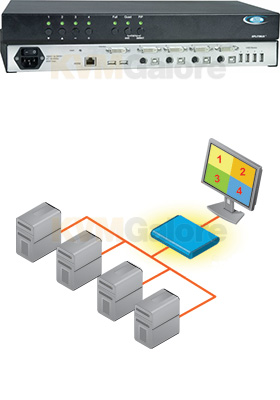 Buy this item and earn 3,669

Club

Points.
SPLITMUX-DVI-4RT: Display video from four (4) computers simultaneously
on a single monitor with built-in KVM switch and real-time video
---
SPLITMUX® DVI/VGA Quad Screen Multiviewer allows you to simultaneously display video from four different computers on a single monitor.
Additionally, the SPLITMUX unit can switch one of the four attached computers to a shared keyboard and mouse for operation.
Features and Benefits
• Quad, Picture in Picture, Full Screen, Dual, Fade Through Black and Win display modes.
• Independent video in to video out resolution.
• Supports up to 1600x1200 VGA video resolution and 1900x1200 DVI video resolution.
• Accepts analog and digital video signals simultaneously.
• Connect analog and digital devices to the splitter, and display images on a digital or analog monitor.
• Supports digital DVI and analog VGA.
• HDCP compliant.
• Fluid, real-time video performance with 60 frames per second (fps) in all four quadrants.
• Rotate the screen display at different angles – 0°, 90°, 180° & 270°.
• Control multiple PCs displayed on a split screen with a single keyboard/mouse - no switching required.
• Switch audio independently of video from HDMI sources connected to the DVI-I port.
• Transmit audio and video over a single cable with the DVI-HDMI-xx-MM male DVI-D to male HDMI cable.
• Touch screen support – operate connected computers via USB touch screen monitor.
• Control the multiviewer through the front panel interface, keyboard/mouse commands, on screen display (OSD), or RS232
• Cascade SPLITMUX Quad Screen Splitters to display video from up to 16 video sources on one screen.
• LED indicators on switch show which port is active.
• Built-in 4-port USB hub – switch devices between connected computers.
• Compliant with USB 2.0 (high-speed and low/full speed) standards.
• Connect BNC/RCA composite video devices, such as a security camera, using NTI's BNCSV-VGA-CNVTR BNC to VGA converter
• Supports KVM over IP extenders to control the Quad Screen Splitter remotely in quad mode or PiP mode.
• Warranty: Two Years.
Display Modes
• Quad Mode: In quad mode, the screen is split into four fields of equal size each displaying the entire contents of four different video sources.
• Full Screen Mode: In full screen mode, one of the four video sources is displayed in full screen size and maximum resolution.
• Picture in Picture (PIP) Mode: In PIP mode, the full screen display of one of the four video sources is accompanied by one or three small images (thumbnails) of the three other video sources on the right hand margin of the screen allowing simultaneous monitoring.
• Picture in Picture (PIP) Mode: Size, position and selection of the thumbnails are customizable.
• Dual Mode: In dual mode, the left halves of the full screen images from two video sources are displayed side by side at full size.
• Fade Through Black: When switching channels or display modes, the previous image fades out to black, and the next image fades in from black.
• Fade Through Black: Customizable with five speed settings, and can be enabled or disabled by the user.
Built-in Control
Front Panel Interface
• Use front panel buttons to locally change ports or to select a display mode.
• LEDs indicate currently selected port and display mode.
Keyboard/Mouse
• Use hotkey commands or hotmouse commands to select display mode and to select ports.
On Screen Display (OSD)
• Select display modes and computers with On Screen Display (OSD).
• Use the front panel buttons or your keyboard to operate the OSD.
• OSD controls for hotkeys, OSD position, quad mode, PIP mode, brightness, contrast, phase, Horz- and Vert-center alignment adjustment.
RS232
• Control the unit with XML-based protocol via the RS232 port.
• Three DCP modes – off, control, synchronize.
• Baud rate: 57600.
• Download the Device Control Protocol manual
Cables
• Four 6.5-foot 6-pin miniDIN Y-cables included.
• Four 6.5-foot USB male Type A to male Type B cables included.
• Two 6.5-foot DVI-I male to male cables included.
• Two 6.5-foot DVI-I to VGA male to male cables included.
• USB to PS/2 converter included.
• Serial update cable and adapter included.