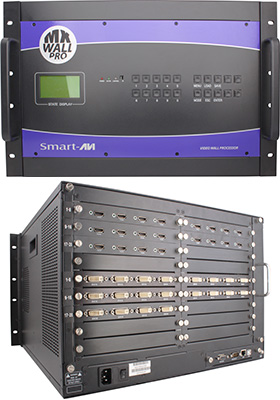 Buy this item and earn 8,549

Club

Points.
MXWALLPRO-0404S: 4x4 HDMI video wall and digital signage matrix switch
route 4 1080p HD video sources to 4 displays with integrated media player, scaler, storage, and creative picture modes
---
Combining the fully functional switching capabilities of a matrix and the versatile high definition capabilities of a converter, SmartAVI's MXWall-Pro is the ideal all-in-one video wall hardware solution. Specifically designed and optimized for the most demanding environments and applications, MXWall-Pro lets users effortlessly manage and route up to 32 HDMI video sources to 32 HD displays in real time in stunning 1080p resolution.
Stun and enthrall with robust multi-screen configurations and full scaling capabilities across 4 screens. Completely compatible with HDCP and HDMI 1.4 connectors, MXWall-Pro reliably transmits HD content across scalable display configurations in real-time for 24/7 uninterrupted use.
Plug-and-play ready, MXWall-Pro requires absolutely no technical skill to install and operate. With an integrated media player for video, photos, and web browsing, MXWall-Pro offers the ease and freedom of user-friendly customization with the secure reliability of a hardware-only solution. Save content on the device itself with local storage, and never have to connect the box to your computer: MXWall-Pro is ready to go when you are.
Perfect for large-scale displays and digital signage arrangements, MXWall-Pro is a terrific addition for airports, malls, entertainment venues, security and public works facilities, outdoor displays, and convention centers.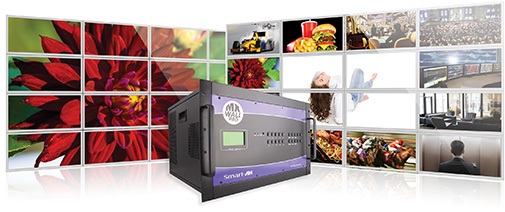 Powerful Web Interface
Maximize the effectiveness of MXWall-Pro with ease using its simple yet robust web interface. With user-friendly drag-and-drop capabilities, organizing and changing video layouts are done on the device and as easy as 1-2-3. There is no need for additional plug-ins, drivers or software, and MXWall-Pro works in real time, so your content transmits to displays for immediate results. MXWall-Pro has everything users need to manage their content from the convenience of a single piece of hardware.
Digital Signage Ready
While other video walls and matrix routers shoehorn users, forcing them to input their content exactly as it will be displayed, MXWall-Pro simplifies the process while adding an extra layer of exciting customization to content management. MXWall-Pro hardware comes with built-in digital signage controllers, offering users that necessary edge in managing attractive and enticing content. Using SmartAVI's SignagePro technology, users can access the digital signage interface at any time, so loading and updating content on the fly is effortless and effective. SmartAVI's reliable, user-friendly signage interfaces are used daily across the globe, guaranteeing the utmost ease and satisfaction with display creation.
Flexible Customization and Control
MXWall-Pro is specifically catered towards building the most customizable and extensive video wall configurations for any environment or occasion. Even from the device's Start Screen, MXWall-Pro offers a wide variety of adaptable options to enhance displays to their best potential. Adjust aspect ratios, screen modes, display types, independent windows, and more to optimize content and dazzle patrons. The device also allows users to upload their own logo and branding content to the device, offering a professional and intimate connection between MXWall-Pro hardware and its users.
Creative configurations
MXWall-Pro's robust selection of display configurations bring imaginative multi-screen collages to life! Send 1080p (1920x1080) HD visuals across individual and multiple screens using a variety of modes and customizable layouts with SmartAVI's MXWall Manager software.
Easy to Use
MXWall Manager software features a streamlined layout that keeps things simple and clear. Our intuitive menus and settings interface ensure set-ups always are easy and stress-free. Choose from settings like aspect-ratio, rows, columns, video sources, and more! Adjust resolutions, scaling, and active monitors on the fly. Not happy with your current configuration? Just clear the workspace and start fresh: it's that simple!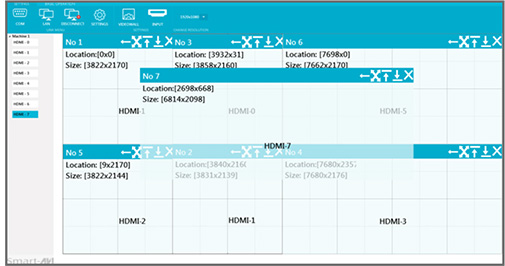 Fully Customizable
Take your pick of any of our versatile display modes. Select any screen and input the source you would prefer. Even multiple video sources can share a single screen with SmartAVI's QUAD, PIP, and WINDOWED display modes. The possibilities are as endless as your creative potential!
On Screen Display
All of MXWall-Pro functions are controlled through On Screen Displays (OSD). OSDs offer users flexibility and ease when managing their video walls. Configuring MXWall-Pro on the fly is hassless thanks to intuitive, simple menus and clear layouts. MXWall-Pro is an all-in-one device, so no additional screens or computers are required to make changes. Users can also choose to operate the OSD through IR remote. RS-232 control is supported, as well.
Features and Benefits
• Complete hardware solution
• Plug-and-play ready
• 4 HDMI inputs and 4 DVI outputs
• Output resolution up to 1080p @ 30Hz
• Supports video wall and digital signage layouts
• Reliable 24/7 uninterrupted use
• Easy control and access
• HDCP and HDMI 1.4 compliant
• User-friendly MXWall Manager software
• Integrated media player for video, photos and web
• Browsing with local storage