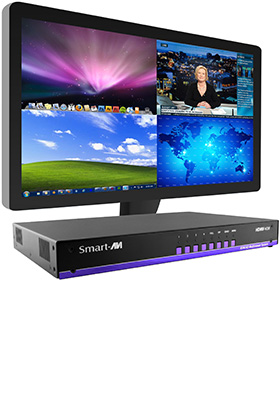 Buy this item and earn 2,849

Club

Points.
SM-HDMV-KM-S: View, command, and switch control between four (4) HDMI computers from a single monitor
with fast switching via mouse and USB 2.0 peripheral sharing
---
HDMV-KM blends the convenience-centered sensibilities of SmartAVI's Multiverviewer series with the powerful functionality of a KVM control solution. It not only allows users to view up to 4 HDMI video sources simultaneously on one display: it offers users the ability to control four connected computers remotely via USB 2.0 ports.
By simply dragging a mouse from one simulated screen to the next, users can switch control of one computer to another seamlessly. By clicking the scrolling wheel in the middle of a mouse, users can expand one connected display to full-screen, then revert to a multiview layout by clicking it again. HDMV-KM is all about keeping KVM emulation simple for its users.
Connect video sources via HDMI or DVI-adapted connectors, and enjoy high definition advanced viewing options such as dual-mode, quad-mode, full-screen mode, and PiP (picture in picture) mode. Flexible, simple, and effective, HDMV-KM is the perfect management solution for multiviewing emulation and control.
HDMV-KM multiviewer makes for an ideal addition to any number of working environments and activities. On top of its high definition HDMI video capabilities, HDMV-KM's KVM (keyboard-video-mouse) emulation offers users unparalleled management of multiple computers from the convenience of a central display, USB keyboard and mouse.
Supervisors in data centers, medical facilities, security stations, protective agencies, government organizations, corporate networks, and control centers of all kinds can use HDMV-KM to seamlessly view and access of connected systems when they need to most. Better yet, users can connect their own assets and devices to remote computers via HDMV-KM's USB peripherals, like printers and flash drives. So whether you're working or just enjoying HD videos, HDMV-KM ensures you have the best multiviewing and command emulation experience around!

Simple design, easy operation
Controlling HDMV-KM is easy using front panel buttons, RS-232 commands, OSD menu, and USB keyboard hotkeys. Switch between sources and cycle layouts with the press of a button. Adjust display configurations and signal settings with simple commands from a remote location. Even customize your display for optimized multiviewing experiences with our convenient OSD menu.
HDMV-KM is easily integrated into existing hardware set-ups, and adds new layers of ease to multi-computer management by centralizing command to one connected location. System management has never looked so good!
Available configurations
• Full-screen mode: In the Full-Screen mode, one of the four video sources is displayed in full screen size and maximum resolution. Keyboard and mouse operation automatically switch to the corresponding computer.
• PiP mode: In the PiP (picture in picture) mode, the full screen displays of one of the four video sources, and is accompanied by three smaller images (thumbnails) containing the other video sources on the right-hand margin of the screen, allowing simultaneous monitoring.
• Dual mode: In Dual mode, the screen is split into two fields of equal size with each video source or computer being displayed in each of the fields.
• Quad mode: In Quad mode, the screen is split into four fields of equal size with the four video sources or computers being displayed in each of these fields. Keyboard and mouse operation can be assigned to the field of the corresponding computer.
Features and Benefits
• View up to four sources on a single monitor at the press of a button
• Supports USB 2.0 keyboard-mouse control and peripherals
• Supports HD video content up to 1080p resolutions (1920x1080)
• 4x HDMI, 2 USB (keyboard/mouse), and 2x USB 2.0 peripheral device ports
• HDMI-DVI adapter support
• Full keyboard-video-mouse emulation
• HDCP and HDMI 1.4 compliant
• Seamless switching between computers with mouse
• Outputs HDMI up to 20 feet
• Switch between multi-view and individual full-screen operation simply by clicking the scroll wheel of a mouse
• Switch between useful layouts with front-panel buttons, keyboard hotkeys, or RS-232 commands
• OSD (On-Screen Display) menu for hardware control via display
• Split displays to show four sources on one screen with Quad Mode
• Split displays to show two sources on one screen with Dual Mode
• Display one source in full screen and three thumbnail views of other sources with PiP Mode
Package Includes
• HDMV-KM Multiviewer [SM-HDMV-PL]
• Power cord [CCPWR06]
• Cables not included
Required Cables (per port)
1x HDMI, male-male
1x USB, Type-A to Type-B