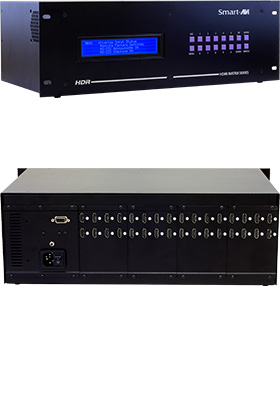 Buy this item and earn 6,749

Club

Points.
HDR16X16S: A non-blocking 16x16 HDMI matrix switch
HDR 16x16 conforms to the HDMI (High Definition Media Interface) standard and provides a connection to view any sixteen (16) HDMI video sources with multiple resolutions up to 1080p and digital audio on any combination of sixteen (16) HD displays.
The non-blocking HDMI matrix configuration provides maximum flexibility, allowing switching between any high-definition source and/or display.
HDR 16X16 provides HDMI output up to 40 feet and at HDTV resolutions of 480p, 720p, 1080i and 1080p and 4K!
The system works with HD-DVD players, TiVo systems, HT PCs, and satellite set-top boxes that connect to an HDMI display. Users can switch to any source locally or remotely via a RS-232, IR, USB or TCP/IP connection.
Software
HDR 16x16 is controlled by Windows®-based software that is easy to understand and simple to use – a cornerstone of all Smart-AVI products.
HDR 16x16 hardware comes with the easy-to-use Windows®-based SmartControl software application that makes user interface simple. Using SmartControl, you can assign a unique name to each port on the router, customizing projects to your liking and needs.
Features and Benefits
• Switches 16 HDMI inputs with 16 HDMI outputs
• Sources can be routed independently to displays
• Switching controlled via the front panel, RS-232, IR, USB and TCP/IP
• Supports high definition video resolutions of 480p, 720p, 1080i, 1080p and 4K (up to 3840x2160)
• Supports 7.1 Digital surround sound audio
• HDCP and HDMI 1.4 compliant
• Supports EDID for total control of compliant displays
• Delivers uncompressed digital video with zero signal loss
• Outputs HDMI up to 40 feet
• Rack-mountable
Package includes
• HDR 16x16 (HDR16X16)
• SmartControl software (SM-CSW)
• Power supply PS5VD4A