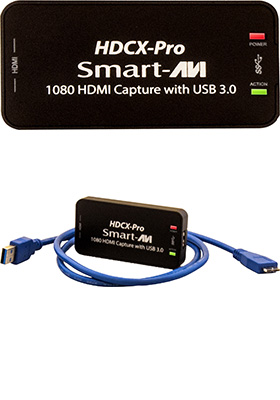 Buy this item and earn 374

Club

Points.
Live HDMI capture adapter with USB 3.0 output
to capture high definition video from an HDMI source for display on digital signage and video walls
---

To feed live video and audio from an HDMI source into a video wall or signage player, the portable HDCX-Pro is a user-friendly HDMI capture adapter. With one HDMI input and one USB output that supports USB 3.0 and 2.0 devices, it's never been easier to route a camera, graphics card or HDTV source into a computer or signage player, featuring resolution up to 1920x1200.
This is an extremely affordable and convenient solution to manage a wide variety of video needs with a PC, digital signage or video wall system. Audio is also supported over HDMI.
With no driver installation required, HDCX-Pro delivers true plug-and-play functionality in an extremely compact device. That makes it adding and managing live HD video practical, simple and more effective than ever. There's no power adapter necessary either, which makes this a must-have solution to implement live video feeds on the fly with virtually any video display and management system.
Transform Digital Signage and Video Walls
When paired with Smart-AVI's easy-to-use digital signage players, HDCX-Pro gives users the ultimate in control. Users can implement unique multizone designs with live video using HDCX-Pro. That means users can run live video while overlaying news, brand imagery, advertisements and other crucial information on the fly.
This device provides the ideal solution to include live video content in any digital signage environment, from single-screen plug-and-play set ups to a vast digital signage network controlled from a centralized location.
Similarly, HDCX-Pro can enhance a video wall system of any size by enabling the inclusion of live video. Whether it's a DVD, camera or HDTV source, users can create more vibrant and dynamic video wall content. Again, with multizone layouts, users can display the messaging they want while also incorporating high-definition live video. And with its incredibly compact design and low price, integrating live content from an HDMI source to a video walls and digital signage is now hassle free.
Features and Benefits
• HDCP and HDMI 1.4 Compliant
• Supports USB 3.0 and USB 2.0
• Compatible with Windows (7 and up), Linux (2.6.38 and up) and OS X (10.8 and up)
• Supports APIs including DirectShow, DirectSound, V4L2, ALSA and QuickTime
• Resolutions up to 1920x1200
• Connect Multiple Units to a Single Computer
• Enables Up and Down Conversion of Video Resolution
• Features Automatic 48KHz PCM Stereo Audio Output
• Plug-and-Play Ready, No Driver Installation Required
• 64MB DDR2 Onboard Memory for Video Frame Buffering