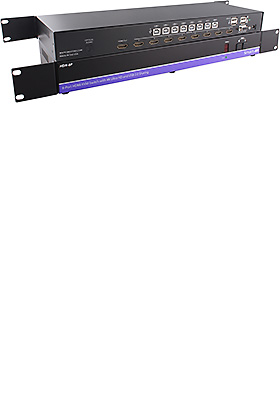 Buy this item and earn 599

Club

Points.
HDN-8P-S: 8-port 4K Ultra HD KVM switch with USB 2.0 sharing
access and control eight (8) 4K Ultra HD computers using only one USB keyboard, USB mouse and HDMI monitor with full emulation
---
HDN-8P is a dedicated multi-platform KVM switch capable of managing eight computers through a single HDMI monitor, USB keyboard, USB mouse, and other USB 2.0 devices. This is the first KVM switch on the market that features support for 4K Ultra HD (3840x2160 @30Hz) workstations.
HDN-8P also features SmartPreview technology, which enables simultaneous picture-in-picture monitoring of the other sources connected to the switch. This helpful technology allows users to keep tabs on the other connected workstations without constantly needing to switch back and forth.
USB emulation technology utilized by HDN-8P enables immediate hot key source switching through a remote USB keyboard and mouse. HDN-8P is HDMI 1.4 and HDCP compliant, which supports 4K Ultra HD resolutions and 12-bit deep color at 1080p @60Hz. RS-232 control and front panel switching are supported. The switch also transmits digital audio.
Source Switching Made Easy
HDN-8P provides a simplified management approach for eight Ultra HD equipped computers with HDMI and USB 2.0 outputs. This dynamic KVM console can be controlled by keyboard hot keys or RS-232 commands, as well as directly through the console's easy-to-read front panel.
EDID Learning and Programming
HDN-8P features plug-and-play EDID, making the switch easy to implement in virtually any scenario. As soon as a user plugs in a monitor, the switch automatically learns and copies the EDID to all of the ports. The plug-and-play EDID helps make switching hassle free and simple.
Full USB Keyboard and Mouse Emulation
The USB keyboard and mouse emulation utilized by HDN-8P provides quick source switching via keyboard hot keys. HDN-8P simulates the presence of a keyboard and mouse for every attached computer through a USB cable. This is essential as it simulates the existence of the keyboard and mouse to all the computers in order to switch without interruptions.
Flexible Control
• RS-232: Any external device or program supporting RS-232 can control the HDN-8P. The HDN-8P uses a very simple protocol that enables easy integration with other devices.
• USB/Keyboard: Hot keys enable the user to switch and control all the different functions of the KVM system.
Flexible Sharing
Independent simultaneous device selection: Flexibility is key with the HDN-8P. It enables the use of a USB keyboard and mouse of one computer while other USB peripherals such as scanners and printers are connected to other computer sources. HDN-8P maintains the ability to switch all connected devices to any one of the computer sources as with any other KVM switches.
Features and Benefits
• Switches eight Ultra HD sources to one Ultra HD display
• Supports resolutions up to 4K Ultra HD (3820x2160 @30Hz), including 1080p (@60Hz) full HD
• Uses HDMI 1.4 ports
• Supports 3DTV pass through
• Zero pixel loss with TMDS signal correction
• Supports all USB 2.0 devices, including keyboard and mouse
• Control Sun, Mac or PC workstations from one KVM console
• Rack mountable in a standard 19 inch rack using optional rack-mount kit (purchased separately)
• Flash upgradable firmware
• Supports HDCP
Package Includes
• HDN-8P switch
• PS5VDC4A power supply