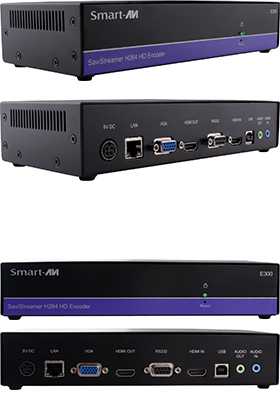 Buy this item and earn 974

Club

Points.
SAVI-ST-E300S: Capture, record and stream high-definition A/V signals over the Internet
at high quality, low-bandwidth H.264 Web stream
---
Note: Decoder units are purchased separately
SaviStreamer E300 is a Web stream encoder which turns HDMI, VGA, and stereo audio source signals into high definition H.264 digital media. SaviStreamer E300 is the perfect A/V over IP solution for distributing HD media across vast distances using the Internet!
Encode high definition audio-video content to H.264 quality with SmartAVI's highly affordable SaviStreamer E300. SaviStreamer Encoder is a cutting edge AV-over-IP device, perfect for streaming HD media at its absolute best quality. Functional with resolutions up to 1080p at 60 frames per second, it can stream to any supporting device, as well as enhance content from local network and remote IP connections. E300 features intuitive and easy to use SaviStreamer Manager software perfect for optimizing both bandwidth consumption and media quality. SaviStreamer E300 also works in tandem in other systems and programs, streamlining the stream encoding process to best fit each user.
SmartAVI's E300 encoder optimizes and encodes HD audio-visual content to H.264 MPEG media, perfect for high quality distribution with low stress on connected networks. E300 makes for a particularly effective digital signage and video wall solution, capable of great performance over both local and remote connections. Highly scalable and compatible with many players, SaviStreamer E300 identifies and connects with corresponding devices seamlessly, all from the convenience of a central PC workstation.
SaviStreamer E300 features audio support via both HDMI and stereo audio connectors. Preview and enjoy local streaming output with HDMI or stereo audio, and conveniently control the unit from a PC using TCP/IP Ethernet interfaces or RS-232 commands.

E300 video distribution over IP solution consists of an E300 encoder and decoders (purchased separately) that can extend or record up to 1080p @ 60Hz video and audio over a standard network at user-defined low bit rates for excellent quality and minimal network bandwidth consumption. E300 encoder streams or records high-quality video and audio and uses the H.264 video compression standard. It can stream to D300 decoders (purchased separately) or any device or PC that supports the required network protocols. It can also record to a shared network or NAS drive.
Dynamic and Dazzling
Encoded to H.264 MPEG quality, streams are enhanced for optimal quality and performance at a low cost to your network. Distribute high resolution streams to displays at stunning 60 frames per second, without dips in picture quality or stuttering. Fully customize compression to meet the demands of your environment: crop, scale, and adjust video levels to match your display needs. Connect to streams via local network devices or remote IP, and schedule dynamic, evolving content for your audiences.
Controlling SaviStreamer E300
SaviStreamer E300 is plug-and-play, ready for use immediately out of the box. Simply connect your E300 to a HDMI or VGA source, network via an Ethernet cable, and our packaged power supply. The unit will automatically start recording your source's signal and convert it into H.264 Web streams. Additionally, SaviStreamer E300 offers extended control via RS-232 and TCP/IP Web Interface on PCs.
SaviStreamer Manager
SmartAVI's SaviStreamer Manager makes streaming to your signage and video walls as easy as 1, 2, 3! Just install SaviStreamer Manager software from the CD included with E300 Encoder, set passwords to protect your streaming units and environment, and designate streams using IP addresses or local device connection. SaviStreamer Manager uses a simple, intuitive interface that keeps streaming devices organized and optimized for any configuration, all from the convenience of a central PC workstation. No technical expertise required, setting up streams with SaviStreamer Manager is as effortless as it is smart!
The A/V over IP Advantage
One of three A/V over IP solutions powered by SmartAVI, SaviStreamer E300 creates HD streams accessible from anywhere in the world via the Internet. Users can access any E300 unit's streams using a SaviDecoder D300 Web stream decoder unit (purchased separately) and any HDMI display. Alternatively, users may also access and control an entire A/V over IP product network using the SaviGateway G300 network switch and video IP gateway (purchased separately): the G300 offers centralized command over both E300 and D300 units, allowing users to label, organize, and preview their streams from the convenience of a PC workstation.
Applications for SaviStreamer E300
SaviStreamer E300 creates Web streams perfect for live event coverage, Web-based entertainment, in-flight entertainment on planes, retail advertising, digital signage, digital billboards, video conferencing, and more:
• Live event streaming
• International conferencing
• Broadcasting and syndication
• Data and visualization sharing
• Commercial content distribution
• Digital signage distribution
• Video wall distribution
Pair with SaviDecoder D300 (purchased separately) and SaviGateway G300 (purchased separately) to take full advantage of A/V over IP systems, such as switching, splitting, and matrixing via streams.
Features and Benefits
• Encode HDMI and VGA source signals as high definition, low-bandwidth H.264 MPEG Web streams
• Supports video input resolutions up to 1080p (1920x1080 @ 60Hz)
• Supports audio via HDMI and stereo connectors
• Supports local HDMI and audio output for previewing streams directly from the unit
• Supports RS-232
• RJ-45 connector for Ethernet access and control
• Pairs with SaviDecoder D300 and SaviGateway G300
• Plug-and-play for immediate use
• H.264 compression for high-quality, low-bandwidth AV-over-IP
• Support for wide-screen and standard aspect ratios and many resolutions
• Scale streams before distribution for lower bandwidth consumption
• HDMI or analog audio support
• Record up to 1080p @ 60Hz / 1920x1200 to a shared network drive
• Recorded user-defined file name includes timestamp for easy file management
• Operates on standard 100/1000Mb Ethernet networks
• Network bit-rate control (100 Kbps – 25 Mbps)
• Fine-tune encode/decode parameters and adjust bit rates
• Reliable, solid-state, energy-efficient design
• Local real-time pass-through and confidence preview on encoder
• User access from secured PC
• Optimized for low-bandwidth consumption
• Supports multiple aspect ratios for proper picture scaling
• Adjust scale, cropping, and picture quality of streams
• HDMI, VGA, and analog connectivity
• Open source encoding for third-party accessibility
• Password protected environments
• Secure design and shielding
• Highly compatible
• Includes SaviStreamer Manager Software
• Auto-detects corresponding devices over LAN
• Remote IP input for device and display connections
• Highly scalable, powerful systems via daisy-chains
• Integrated network switching
• Full duplex RS-232 control
• Convenient, wide-reaching control
• Energy Efficient
• Assembled in the USA
Package Includes
• H.264 Web Stream Encoder [SAVI-ST-E300]
• Power Supply
• Quick Start Installation and Use Guide