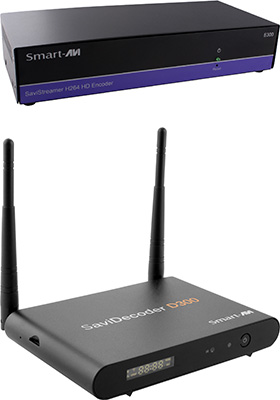 Savi H.264 Full HD A/V Streaming over IP
Encode AV signals to H.264 & stream them over IP at 1080p via a decoder or a computer running VLC, w/ optional centralized multi-stream management
Read more below...

1) SaviGateway G300 Model No. SAVI-G300-S Usually ships within 7 business days or less
$299.00
MSRP: $399.00 -
You save $100.00

2) SaviStreamer E300 Encoder Model No. SAVI-ST-E300S Usually ships within two weeks or less
$974.00
MSRP: $1,299.00 -
You save $325.00
Encode audio/video signals to H.264 and stream them in unicast or multicast over the Internet or LAN to a 1080p screen
via a decoder or a computer running VLC, w/ optional centralized multi-stream management
---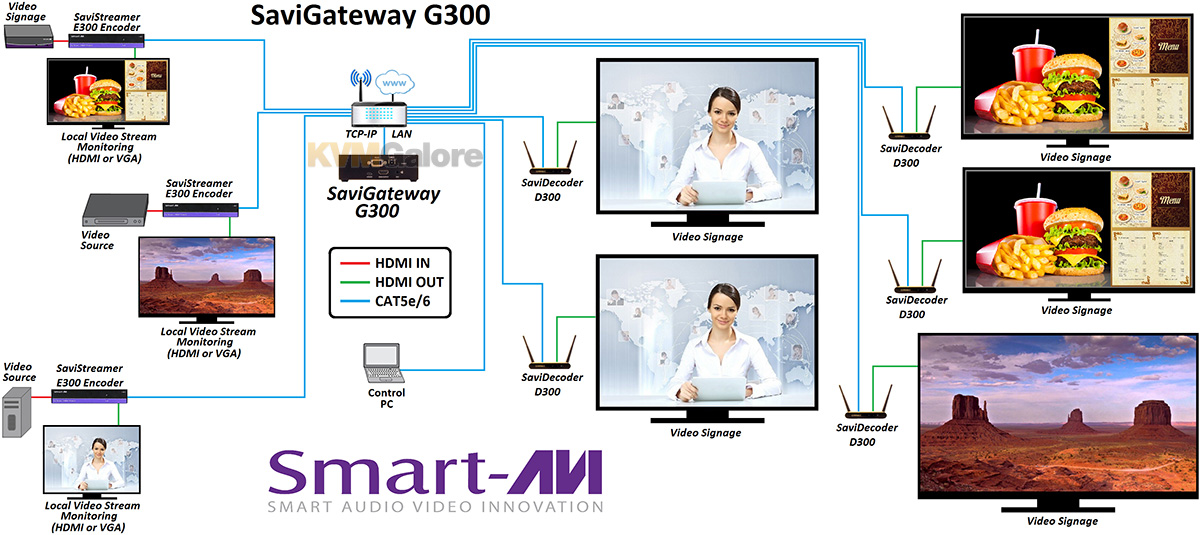 A/V over IP solutions powered by SmartAVI consist of:
SaviStreamer E300 Encoder
SaviDecoder D300, and
SaviGateway G300

SaviStreamer E300 creates HD streams accessible from anywhere in the world via the Internet. Users can access any E300 unit's streams using a SaviDecoder D300 Web stream decoder unit (purchased separately) and any HDMI display. Alternatively, users may also access and control an entire A/V over IP product network using the SaviGateway G300 network switch and video IP gateway (purchased separately): the G300 offers centralized command over both E300 and D300 units, allowing users to label, organize, and preview their streams from the convenience of a PC workstation.
SaviDecoder D300 is a WiFi-enabled Web stream decoder, which allows users to find and view H.264 Web streams on HDMI displays without the hassle of connecting through a personal computer. SaviDecoder D300 offers one of the most cost-effective and efficient ways to access Web-based media streams without the need to connect to the Internet via a computer. This plug-and-play solution decodes audio and video Web streams in various formats, such as H.624, H.265, MPEG, WMV, AVS, MKV, and more. With HDMI video output resolutions up to 1080p (1920x1080 @ 60Hz in H.625/H264 formats), D300 is perfect for the most popular HDTVs and digital monitors on the market.
SaviGateway G300 is a Web streaming gateway and switch, allowing users convenient remote access and control of Web stream operations from the convenience of a PC workstation. SaviGateway G300 IP video gateway gives you the ability to configure, control and connect multiple streaming video encoders to multiple decoders. This is done using a browser on your network to access SaviGateway G300 integrated Web-page. Add as many encoders and decoders as needed. Savi-Gateway G300 acts as a matrix to connect encoders to decoders in any configuration required.