Buy this item and earn 5,623

Club

Points.
FXCS-MX0808S: 8-PC x 8-user fiber-optic matrix KVM switch
for managing secure KVM functions over long distances with advanced OSD control and uncompressed signals
---
FXCore-Pro from SmartAVI is a reliable, secure and long-distance audio and video matrix that operates over fiber optic cables, allowing for safe and long distance DVI-D KVM operation.
In critical environments where security and speed are essential, FXCore-Pro delivers uncompressed HD video, stereo audio, and RS-232. Users can switch KVM control effortlessly via RS-232 or the advanced On Screen Display (OSD) for the ultimate in long-distance control.
In singlemode, users can be as far as 15 miles from the matrix, while communicating with other devices that are also 15 miles away from the matrix, which adds up to 30 miles of KVM connectivity between devices.
Uncompressed high definition video and audio are at users' fingertips, along with lightning fast KVM operation. The secure functionality of FXCore-Pro is a critical feature. There are countless environments where secure KVM control is absolutely critical, and fiber optic connections eliminate interference, grounding and atmospheric issues. Furthermore, the device utilizes the latest in security protocols to prevent information breaches and hacking.
FXCore-Pro works in tandem with the FDX-3000 at the end points (purchased separately) to transmit and receive the signals via fiber optics and convert them back into DVI-D, stereo audio and RS-232 signals. There is no more effective or secure solution for long-distance KVM switching than FXCore-Pro and FDX-3000 combination.
Secure, Long-Distance Signal Routing over Fiber Optics


FXCore-Pro delivers stunning HD DVI-D video and USB keyboard-mouse signals across long distances with the unsurpassed efficiency, flexibility, and security of fiber optic matrix routing. Perfect in environments where confidentiality and speed are essential, FXCore-Pro offers users palpable results with 1080p resolution video, stereo audio, keyboard-mouse commands, and RS-232 support.
Both users and end-point devices can connect to FXCore-Pro from as far as 15 miles: a whopping 30 miles of high-speed signal connectivity thanks to its advanced fiber optic routing.
Performing at near real-time, users can control KVM functions on remote systems, all with the security and uncompressed visual clarity only fiber optic solutions can offer. FXCore-Pro matrix also features On Screen Display (OSD), which bolsters security by requiring a login for private access to connected computers. FXCore-Pro takes signal safety to the next level, letting users label linked devices and assume unparalleled command of their connected signal network.
Highly compatible with all SmartAVI fiber optic solutions, FXCore-Pro pairs well with fiber extenders and switches for enhanced signal range and functionality. Better yet, FXCore-Pro is plug-and-play, so users can easily integrate the matrix into existing AV set-ups: no additional software required.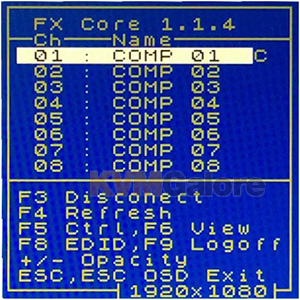 Singlemode Optical Fiber
By using singlemode optical fiber, FXCore-Pro can transmit high-quality signals to unprecedented distances. By utilizing just a single ray of light, singlemode transmission are fast and far reaching with an incredible bandwidth capability. Singlemode fiber allows for the safest transmission of signals across vast distances.
Intuitive Control via On Screen Display (OSD)
For fast and secure access to KVM-connected computers, look no further than FXCore-Pro's intuitive OSD (On Screen Display) system. OSD offers secure login for private access to devices connected to the matrix. Once logged in with the OSD, users can view and command connected devices and KVM functions with ease.
Furthermore, FXCore-Pro's OSD simplifies use of the matrix by allowing users to name each linked device, making it easier than ever to quickly connect with the right computer every time. Paired with the proven security of fiber optic technology, OSD ensures users and system architects have a safe and optimized experience each time they access remote devices via FXCore-Pro.
University Applications
College campuses in the 21st century require quality networking. Reliable routing infrastructure is key, and FXCore-Pro enables institutions to link its servers with users across a building and across a campus using the FDX-3000 to establish long distance routing. With KVM functionality, IT professionals can even access each computer remotely, controlling the keyboard, video display, mouse, audio output, and RS-232 controls.
Medical Applications
Modern medical care revolves around advances in technology. With high-quality USB cameras and specialized medical scanners that feature USB outputs connected to servers or PCs via the matrix, doctors can save, send and access crucial data, charts, and readouts with unprecedented ease and speed. FXCore-Pro, in concert with the FDX-3000, creates a secure system to assist doctors and medical specialists that improves the care they can provide.
Features and Benefits
• Manage secure KVM (keyboard, video and mouse) over fiber optics
• Device-to-matrix routing distance of 15 miles in singlemode, 30 miles from device to device
• Supports uncompressed DVI-D video, stereo audio and RS-232 control
• Supports On Screen Display (OSD) control and optional broadcasting functionality
• Fiber optic plug type LC
Package Includes
• Matrix switch [FXCS-MX0808]
• GUI software for source/destination selection and name editing [SM-CSW]
• Power cord [CCPWR06]