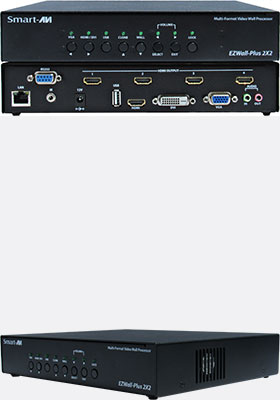 Buy this item and earn 1,199

Club

Points.
4-screen, multi-layout, multi-format video-wall controller
2x2 HD video-wall controller from a single HDMI, DVI or VGA input, and an integrated USB media player
---
EZWall-Plus 2x2 from SmartAVI is the perfect video wall solution for a wide variety of environments. With four single-link HDMI outputs, users can create an attractive and dynamic 2x2 video wall display.
EZWall-Plus 2x2 offers top-notch HD-HDMI output for five different types of signal inputs. Create striking 2x2 wall displays easily with simple signal switching and flexible connectivity. EZWall-Plus 2x2 even features a fully-integrated USB media player.
EZWall-Plus 2x2 is capable of stretching any HD video input over four screens, while maintaining any resolution up to 1920x1080 on each screen. This powerful solution stretches and amplifies video imagery in multiple ways, including Wall Mode and Clone Mode. Better yet, EZWall-Plus 2x2 is plug-and-play ready, easy to use and install for AV integrators of any technical skill level.
The EZWall-Plus's 2x2 screen configuration makes it an excellent fit for airports, classrooms, retail spaces, and restaurants. It excels at showcasing brand-driven content, entertainment media, decorative graphics, and informative slides.
Video Flip
Many HDTV displays have a bezel that is wider on the bottom than it is on the top and sides. Wall Mode video flip feature fixes this by allowing you to flip the top two displays in your video wall by 180 degrees, so that the wide bezels are not separating between the top row and the bottom row of the video wall.
Creative Configurations
EZ-Wall-Plus 2x2 features the ability to display HD video sources in a variety of attractive ways, including: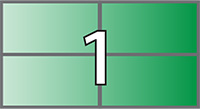 Wall mode: Project video onto all four screens on your video wall for a single 1080p Full HD 2x2 display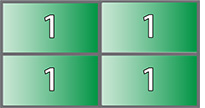 Clone mode: Populate the entire video wall with duplicated video from a single input source on each screen.

1x2 and 2x1 mode: Stretch video across two screens of your video wall, either vertically (1x2) or horizontally (2x1).
Simple, Flexible Video Wall Control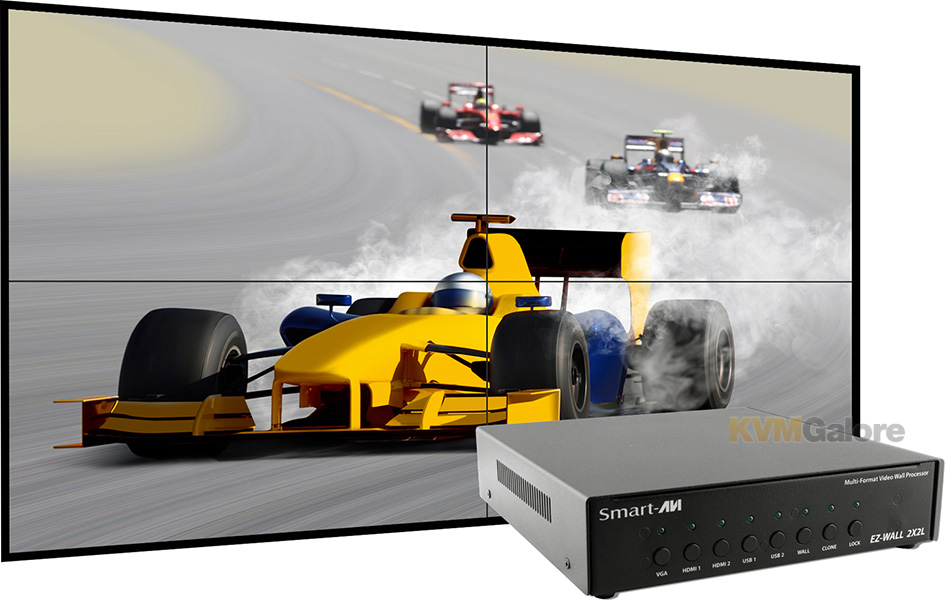 True to its name, the EZ-Wall-Plus 2x2 is very easy to use and control. The user-friendly front-panel interface gives you direct control over every aspect of your video wall, including screen modes, source switching, and more. EZWall-Plus 2x2 offers a variety of other means for controlling your video wall, including:
Push Buttons: Control the unit with simple, clearly-labeled front panel push buttons.
IR Remote Control: EZWall-Plus 2x2 is packaged with a complimentary infrared remote controller, which makes it easy to take command of the unit from anywhere within IR range. Easily switch between different input sources, screen modes, settings, presets and more at the convenient press of a button.
TCP/IP Ethernet Control: Connect to EZWall-Plus 2x2 from your PC using the Internet. Control an EZ-Wall-Plus 2x2 video wall from anywhere in the world using SmartAVI's TCP/IP web-based Ethernet control interface. Manage creative configurations, source switching, settings, and more from the convenience of your personal computer over the Internet.

Features and Benefits
• Four screen (2x2) multi-layout, multi-format video wall controller
• Outputs: (4) HDMI
• Inputs: 1x HDMI, 1x VGA, 1x DVI
• Integrated USB media player for digital video, imagery, and audio
• Internal EDID learning
• 1080p (1920x1080 @ 60Hz) Full HD resolution output
• No additional hardware or software required
• Supports control via front-panel buttons
• Supports control via IR remote control
• Supports control via TCP/IP
• HDCP and HDMI 1.4 compliant
Package Includes
1x Controller (EZWall-Plus 2x2)
1x Power Adapter (PS12VDC5A)
1x IR Remote Control (SAVI-RMT)
1x IR Signal Receiver SM-EYE2