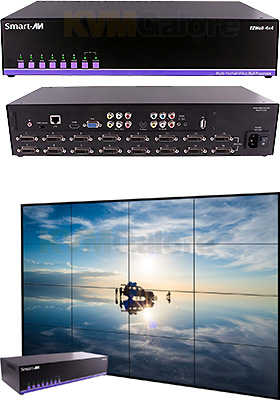 Buy this item and earn 2,999

Club

Points.
EZW4X4-S: Multi-format video-wall processor
4x4 HD video-wall controller from a single HDMI, VGA, composite, S-video, or Y/Pb/Pr input, and an integrated USB media player
---
EZWall-Pro from SmartAVI is the perfect video-wall solution for a wide variety of environments. With 16 single-link DVI outputs, users can create an attractive and dynamic 4x4 video-wall display from a single video source. EZWall-Pro includes six different types of video inputs to ensure it is compatible with as many common video sources as possible. Inputs include:
• One HDMI
• One VGA
• One S-video
• One component, and
• One Y/Pb/Pr.
The device also includes a fully-integrated USB media player. No matter the format of the video users may want to display, EZWall-Pro is clearly the most flexible video-wall solution currently available.
EZWall-Pro is capable of stretching any HD display over four screens, while maintaining any resolution up to 1920x1080 on each screen. This powerful version stretches the video image in multiple ways, including Wall mode (4x4), Clone mode (each display showing the same input) and Horizontal mode.
Multiple Input Formats
EZWall-Pro is specifically designed to integrate with a wide variety of technologies, past and present. For those using the top level resolutions over HDMI cables, the device delivers top-notch HD video. And for those using older formats like VGA or Component, the device is equipped with automatic scaling for the best possible output. With the integrated USB media player, users can also take the content on a portable USB drive and directly plug it into EZWall-Pro with ease.
SmartAVI's EZWall-Pro is the perfect entry-level video-wall solution that has been aggressively priced within the market, with the added flexibility of plug-and-play operation and the option to manage higher-level functions remotely via IR remote, RS-232 connections and Ethernet control.
Configurations
The control functions on EZWall-Pro provide users with the flexibility to get the most out of their content and their screens. While many users will employ this unit for its "Wall mode" (one image stretched across the four screens), others will find the alternate layout options to be a better fit for their needs (see image).
Utilizing the different configurations supported by EZWall-Pro allows users to truly tap into the possibilities of the device. For those who require a solution that can handle a variety of needs from a single unit, EZWall-Pro delivers much more than the restricted options offered by other video-wall controllers.
On Screen Display
All of EZWall-Pro's functions are controlled through On Screen Display (OSD). OSD gives users great flexibility and ease of use when looking to manage their video-wall. Configuring EZWall-Pro on the fly is no hassle at all, with no additional screens or computers required to make changes in real time.
Integrated USB Media Player
A key aspect of EZWall-Pro's flexible nature is the integrated USB media player. By simply plugging in a USB drive or other USB device, users can access the content therein and transmit video, images and even audio to their screens via the USB port. Because it's already built in to EZWall-Pro, there's no need for software or any special adapters or dongles. Just load the content on the USB drive, plug it into EZWall-Pro, and select the USB source via the OSD. It's that easy.
Supported video formats for the USB media player include a variety of MPEG and MJPEG formats, as well as Xvid, DivX and more. Supported audio formats include MP3, WMA, AAC and more.
Features and Benefits
• Sixteen Screen (4x4) Multi-Layout, Multi-Format video-wall Controller
• Sixteen DVI Single-Link Outputs
• Inputs: One HDMI, One VGA, One S-Video, One Composite, One Y/Pb/Pr
• Supports Playing Media via USB port
• Internal EDID Tables
• 1920x1080 Output Resolution
• No additional hardware or software required
• Supports Control via Ethernet, IR and RS-232
• HDCP Compliant
Package Includes
• EZW4X4 Multi-Format Video-Wall Processor
• Power Cord (CCPWR06)