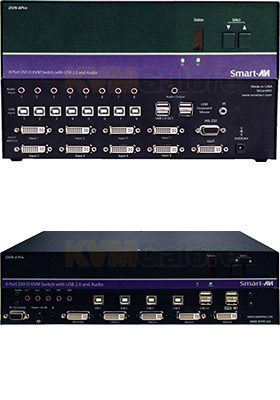 DVN Pro DVI-D KVM+audio switches
with USB 2.0 peripheral sharing, full USB keyboard and mouse emulation, RS-232 control, EDID support
---
With SmartAVI's DVN Pro KVM switches, a user can now manage up to 16 computers through a single DVI-D monitor, USB keyboard & mouse, a single set of speakers and USB 2.0 device sharing.
USB emulation technology utilized by DVN Pro enables immediate hotkey source switching through a USB keyboard and mouse.
DVN Pro uses single link connectors providing high resolutions of up to 1920x1200 with zero pixel loss from TMDS signal correction.
DVN Pro provides a simplified management approach up to 16 computers with DVI-D, audio and USB 2.0 outputs. These dynamic KVM consoles can be controlled remotely from easily accessible keyboard hotkeys or RS-232 communication channel commands, as well as directly through the console's easy to read front panel.
Detection of DDC signals for all attached devices is effortless with DVN Pro due to their EDID learning and programming. This is vital in optimizing the resolution of the selected graphics card to properly display on the remote monitor. Furthermore, the DDC learning feature continues to replicate the correct EDID for the computer to enable the display card to effectively work when unused ports are not selected.
The USB keyboard and mouse emulation utilized by DVN Pro provides accurate and quick source switching by means of keyboard hotkeys. DVN Pro imitates the presence of a keyboard and mouse for every attached computer through its USB cable. This is essential as it simulates the existence of the keyboard and mouse to all the computers when switching out of circuit.
DVN Pro has a broad range of applications, but the main function of this KVM switch is to centralize the access of several computers into one comprehensive PC. Not only does it function as a KVM console, it also supports full USB keyboard and mouse emulation plus audio and USB 2.0 switching. This allows a user to control various USB 2.0 devices that would otherwise be unavailable with conventional KVM devices. For example, it allows a user to use sophisticated USB devices such as printers, cameras, and scanners without having to directly plug into the remote computer.
Flexibility is key with the DVN Pro. It enables control of connected computers through independent switching of KVM and peripheral USB and audio ports. Users can listen to audio from one computer while accessing the hard drive of another and scanning a document from another. DVN Pro maintains the ability to switch all connected devices to anyone of the computer sources as with any other KVM switch.
Flexible Control
• RS-232: Any external device or program supporting RS-232 can control the DVN Pro. The DVN Pro uses a very simple protocol, that enables easy integration with other devices.
• USB Keyboard: Hot keys enable the user to switch and control all the different functions of the KVM system.
• IR: Infrared remote control enables integration and control of the KVM switch.
• TCP/IP: SMTCP-2 is a SmartAVI optional TCP/IP converter that enables users to switch and control the DVN Pro control from anywhere in the world using a LAN or WAN connection.