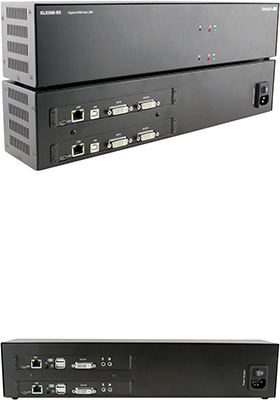 Buy this item and earn 688

Club

Points.
Dual-port DVI (and VGA) KVM extender via CATx and/or LAN
extend dual-head DVI, USB keyboard/mouse up to 500 feet using 2x CAT-5/5e/6 cables
---
KLX-500-Duo is an industrial-strength dual-port DVI (and VGA) and USB KVM signal extender. Capable of transmitting 1080p Full HD video to two displays up to 500 feet away via 2x CAT-5e/6 cables over LAN, KLX-500-Duo also allows dual keyboard-mouse operation for local and remote real-time system management.
KLX-500-Duo compresses data to utilize CAT-5e/6 cables, but users will see no degradation of signal when using one Gigabit Ethernet connections and up. For users utilizing preexisting LAN connections, implementing a one Gigabit switch allows for signal extension with full resolution. Users with smaller bandwidth will experience compressed signal if they decide to forgo the additional switch.
KLX-500-Duo is an ideal fit in pre-existing LAN infrastructures, like corporate office environ-ments and data centers. KLX- 500-DUO supports full USB emulation and 1080p Full HD video up to 1920x1080 resolution at 60Hz. KLX-500-Duo features dual control operation for local and remote KVM support, so managing workflow is never more than a mouse-click away.
Built with plug-and- play functionality, setting up and running KLX-500-DUO is simple and seamless. No drivers or software installations required. KLX-500-Duo is great for consolidating space and workflow alike, great for supervising and managing projects from the convenience of your personal workstation.
Features and Benefits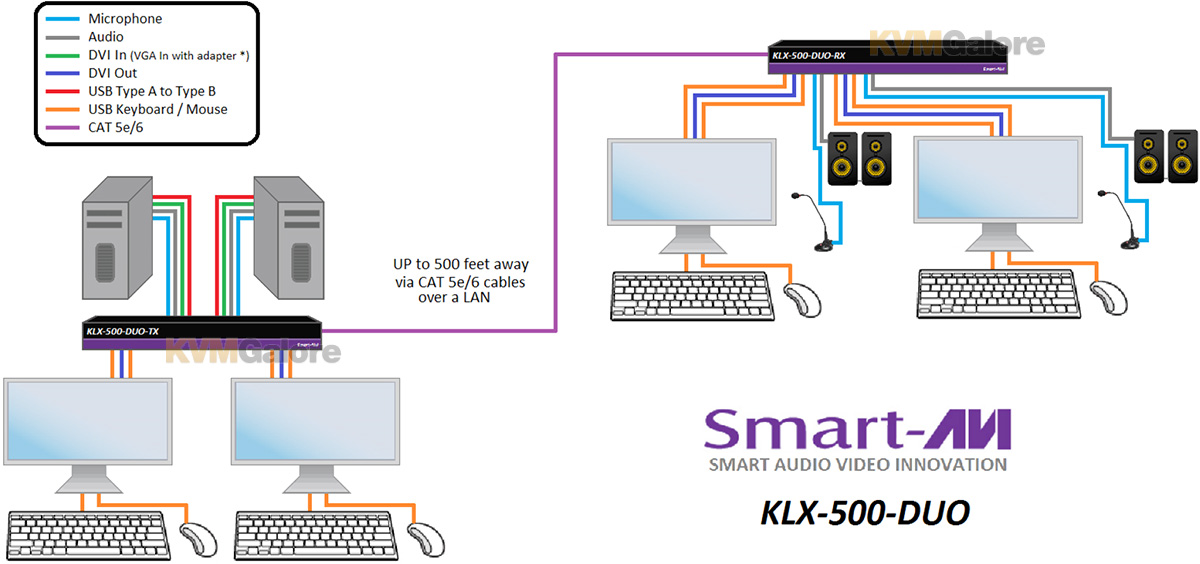 • Extends KVM operation by 500 feet via LAN (CAT-5e/6 cables)
• Chainable for thousands of feet of extension
• Supports 2 DVI monitors
• Integrated VGA-to-DVI source converter
• Supports full USB keyboard/mouse emulation
• Supports dual keyboard-mouse control operation with KVM devices
• Supports 1080p up to 1920x1080 resolution at 60Hz
• Plug-and-Play ready; industrial enclosure
Package Includes
1x KLX-500-DUO transmitter unit
1x KLX-500-DUO receiver unit
2x PS5VD2A power supplies