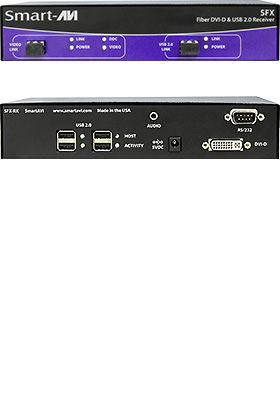 Buy this item and earn 2,399

Club

Points.
SFX-M-S: Extend DVI-D video, USB 2.0 keyboard/mouse and peripherals, audio and RS232
up to 1,500 feet over LC Multimode fiber optics
---
SFX is a perfect solution for extending DVI-D and USB 2.0 signals from a computer in a remote location up to 1,500 feet away.
SFX supports high-resolution DVI-D video and all USB device types from high-speed web cams, hard drives, printers, scanners, audio devices, touch screens, digital cameras and game controllers.
SFX is immune to electromagnetic interference, making it ideal for use in situations where there is considerable interference. SFX is also very secure because it's fiber optic signals cannot be easily tapped.
Fiber-Optics Advantages
Fiber optic cables are superior to conventional cables and are capable of transmitting over very long distances digitally with no signal loss. They are immune to electromagnetic interference and in situations where there is considerable interference, fiber optic cabling may be the only solution. They are much more secure than traditional cabling because they cannot be easily tapped. For this reason, military and law enforcement agencies use fiber optic cables for the transmission of sensitive data. They are also relatively inexpensive and small enough to be routed through small spaces.
Features and Benefits
• Top Signal Quality at Maximum Extension over Multimode Fiber (1,500 ft.) Plug Type LC
• DVI-D Video Resolutions up to 1920 x 1200 WUXGA at 60Hz
• Automatic Learning DDC for Mac/PC
• Supports USB 1.1 (12 Mbps) and USB 2.0 (480 Mbps) data rates
• Supports all USB device types transparently (no emulation) from high-speed web cams, hard drives, printers, scanners, audio devices, touch screens, game controllers and more
• Integrated Four-Port Hub in the receiver
• Compatible with all operating systems
• Extends Stereo Audio
• Extends RS-232
• Plug and play
Package Includes
SFX-TX Transmitter
SFX-RX Receiver
2x PS5VDC4A Power Supplies