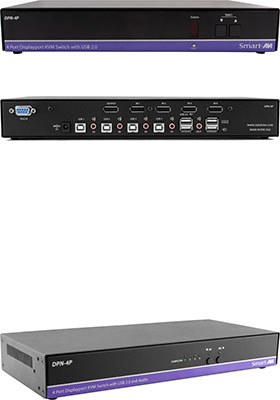 Buy this item and earn 409

Club

Points.
DPN-4PS: 4-port DisplayPort KVM switch
with USB 2.0 peripheral sharing and full USB KVM emulation
---
DPN-4P is a dedicated multi-platform KVM switch capable of managing four computers through a single DisplayPort monitor, USB keyboard, USB mouse, and other USB 2.0 devices.
DisplayPort is one of the latest options in screen connectivity that delivers top quality high-definition video, and this device is DisplayPort 1.2 compliant with support for screen resolutions up to 3840x2160 @ 30Hz. HDMI and DVI video connections are supported with the proper video adapters, and the device is backwards compatible with prior DisplayPort versions.
The USB emulation technology utilized by DPN-4P enables immediate hot key source switching through the connected USB keyboard and mouse. Additional USB peripherals can be attached, like a USB printer. RS-232 control and front panel switching are supported.
Source Switching Made Easy
DPN-4P provides a simplified management approach for four DisplayPort equipped computers with USB 2.0 outputs for a keyboard, mouse and other USB peripheral devices. This dynamic KVM console can be controlled by keyboard hot keys or RS-232 commands, as well as directly through the console's easy-to-read front panel.
EDID Pass-Through
DPN-4P features EDID pass-through technology which enables smooth and efficient switching, making the device easy to implement in virtually any scenario. This plug-and-play EDID functionality makes set up hassle free and simple.
Full USB Keyboard and Mouse Emulation
The USB keyboard and mouse emulation utilized by DPN-4P provides quick source switching via keyboard hot keys. DPN-4P simulates the presence of a keyboard and mouse for every attached computer through a USB cable. This is essential as it simulates the existence of the keyboard and mouse to all the computers in order to switch without interruptions.
Flexible Control and Sharing
• RS-232: Any external device or program supporting RS-232 can control DPN-4P. DPN-4P uses a very simple protocol that enables easy integration with other devices.
• USB/Keyboard: Hot keys allow the user to switch and control all the different functions of the KVM switch.
• Independent Simultaneous Device Selection: Flexibility is key with DPN-4P. It enables the use of a USB keyboard and mouse of one computer while other USB peripherals such as scanners and printers are connected to other computer sources. DPN-4P maintains the ability to switch all connected devices to any one of the computer sources as with any other KVM switches.
Real-World Applications
DPN-4P has a broad range of applications, but the main function is to centralize the access of up to four computers that support DisplayPort displays in a single console. Not only does it function as a KVM console, but it also supports USB 2.0 functionality. This allows users to access nearly any USB device, including those not supported by other KVM switches. DPN-4P is the ideal solution for medical, industrial, studio and defense applications, where it is not practical or safe to have multiple CPUs in the vicinity of the console.
Features and Benefits
• Switch KVM control on four connected computers from one console with a DisplayPort monitor
• Supports resolutions up to 3840x2160 @ 30Hz
• DisplayPort 1.2 compliant
• Zero pixel loss with TMDS signal correction
• Supports all USB 2.0 devices, including keyboard and mouse
• Supports Windows, Mac and Linux
• Rack mountable in a standard 19-inch rack
• Supports control via RS-232
Package Includes
• DPN-4P KVM switch
• PS5VDC4A power supply