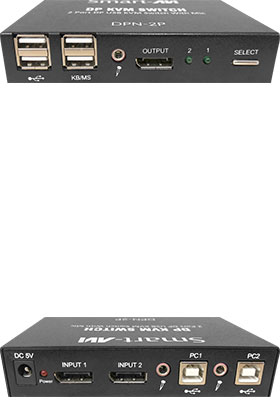 Buy this item and earn 224

Club

Points.
2-port 4K DisplayPort KVM switch
with mic support, USB 2.0 peripheral sharing and full USB KVM emulation
---
DPN-2P is a dedicated multi-platform KVM switch capable of managing 2 DisplayPort computers with one monitor, one USB keyboard & mouse. The USB emulation technology utilized by DPN-2P enables immediate hotkey source switching through a remote USB keyboard. DPN-2P uses DisplayPort connectors providing high resolutions of up to 4K (3840x2160 @ 60Hz) with zero pixel loss from TMDS signal correction.
Source Switching Made Easy
DPN-2P provides a simplified management approach for 2 computers with DisplayPort, mic audio and USB 2.0 connections. This dynamic KVM switch can be controlled remotely from easily accessible keyboard hotkeys, as well as directly through the unit's easy to read front panel.
EDID Pass-Through
DPN-2P features EDID pass-through technology which enables smooth and efficient switching, making the device easy to implement in virtually any scenario. This plug-and-play EDID functionality makes set up hassle free and simple.
Full USB Keyboard and Mouse Emulation
The USB keyboard and mouse emulation utilized by DPN-2P provides quick source switching via keyboard hot keys. Also, DPN-2P simulates the presence of a keyboard and mouse for every computer attached via a USB cable. This is essential to switch without interruptions as it avoids computers freezing or going into sleep mode when they don't detect a keyboard or mouse connection.
Flexible Control and Sharing
• USB/Keyboard: Hot keys allow the user to switch and control all the different functions of the KVM switch.
• Independent Simultaneous Device Selection: Flexibility is key with DPN-2P. It enables the use of a USB keyboard and mouse of one computer while other USB peripherals such as scanners and printers are connected to other computer sources. DPN-2P maintains the ability to switch all connected devices to any one of the computer sources as with any other KVM switches.
Real-World Applications
DPN-2P has a broad range of applications, but the main function is to centralize the access of up to two computers that support DisplayPort displays in a single workstation. Not only does it function as a KVM console, but it also supports USB 2.0 functionality. This allows users to access virtually any USB device, including those not supported by other KVM switches. DPN-2P is the ideal solution for medical, industrial, studio and defense applications, where it is not practical or safe to have multiple CPUs in the vicinity of the workstation.
Features and Benefits
• Zero pixel loss with TMDS signal correction
• Supports all USB 2.0 Devices
• Control Sun, Mac or PC computers from a common KVM console
• Mic audio support
• Complete keyboard emulation for error free booting
• 4K Ultra-HD resolution (3840x2160 @ 60Hz)
Package Includes
• DPN-2P KVM switch
• PS5VD2A power supply
Cables not included
Required Cables (per port)
1x DisplayPort, male-male
1x USB, Type-A to Type-B
1x 3.5mm audio cables, male-male