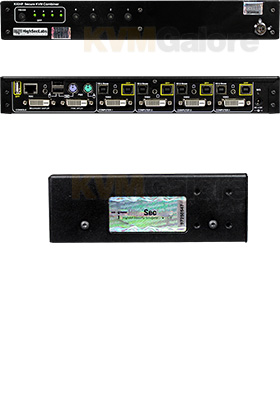 Buy this item and earn 2,492

Club

Points.
4-port, dual-display secure KVM multiview switch [combiner]
Note: This product requires up to 12 business days to ship.
Users often need the option to operate KVM functions while monitoring the other computers that are connected to the secure KVM device. For those applications, a Secure Multiviewer provides the best solution, giving users both KVM functionality and multiviewing options on one or two display. Multiviewers are sometimes known as combiners.
K424F is a secure KVM (Keyboard, Video and Mouse) multiviewer (combiner) that provides secure isolation between connected computers while enabling smooth KVM operation and switching.
Maintaining the separation of computers connected to a KVM switch is critical, particularly when the computers have differing levels of security, clearance and Internet access. K424F allows for the user to monitor all four computers at once on one or two monitors by scaling each source in real time with no latency or loss of picture quality. Users can quickly and effortlessly rescale the windows to fit their viewing needs.
K424F is an essential tool for users challenged by frequent switching between isolated networks. The combination of up to four isolated sources into one or two combined display improves the usability and situational awareness. This product resolves challenges of virtualization while adding additional security protections.
The RDC (Remote Desktop Controller) port enables simple interface with the RDC controller. Using K424F with RDC, users can control and monitor KVM functions remotely and securely.
User-Friendly Window Re-scaling
K424F gives users the option to layout a single screen as seen here, or to add a second screen to further enhance the visual layout possibilities, enabling users to monitor and manage all the connected computers exactly how they want to with just a click of the mouse.
The Ultimate in Secure KVM
KVM connections have become a target for cyber attacks as they may be the only possible link to bridge between isolated classified networks and networks open to the Internet. Many high security organizations are adopting secure KVM devices as part of their cyber protection strategy.
K424F offers the highest possible separation between four connected computers. K424F has been meticulously designed and rigorously tested to meet the requirements of organizations that are challenged by the need to provide secret or top-secret network access together with unclassified or Internet access. Each K424F has passed an extensive security evaluation through all forms of known KVM attacks.
The unmatched isolation and security delivered by K424F is critical in government, defense and other high-security venues. Furthermore, the unit is fully compatible with legacy and new government systems. K424F has been certified to meet EAL 4+ standards to assure it provides the highest level of security possible. In part, the unit achieves this ultimate level of security because it was programmed with the assumption that two of the connected computers are infected by a hostile code that's constantly trying to attack the KVM. The result is the most secure KVM solution on the market today.
The security protections built into K424F ensure the unit cannot be compromised by any known KVM attacks. Unidirectional optical data diodes allow data to flow only from devices to the host, and never in reverse for enhanced isolation. With no dependence on firmware or software, this KVM unit keeps connected computers safe. After manufacturing, antitampering system is activated and each unit is provided with a special holographic tampering-evident label to ensure the device has not been tampered with.
Other secure KVM devices on the market today only allow for users to view one computer at a time. K424F is the only secure KVM combiner of its kind for when users require the secure management of four channels simultaneously, with seamless switching between KVM operation on any connected computer.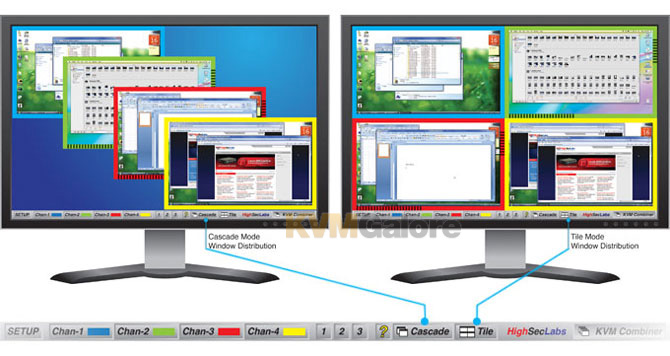 Features and Benefits
• Validated to EAL 4+ security standards
• Complies with Common Criteria Protection Profile 2.1
• View up to four isolated networks simultaneously and securely
• Advanced video scaling - view video outputs in Tile mode or in Cascade mode
• Supports two DVI displays
• View four video outputs on one or two displays
• User-friendly window rescaling
• Unidirectional data paths
• No software or firmware required
• Dedicated processors for emulation
• USB port protection
• USB ports supporting only keyboard and mouse through host emulation and strong filtering
• Optical Data Diode assures unidirectional flow from devices to computers
• Firmware change can not cause leakage between channels or data export
• Isolated power supplies for each device emulator
• Dedicated port for smart-card reader or biometric device; Port is strongly filtered and monitored
• Firmware resides on ROM
• Battery powered anti-tampering system to disable product in case of mechanical intrusion
• Special holographic Temper Evident Labels
• Security Accreditations: Common Criteria EAL 4+ ALC_FLR.3 certified
• Product is NIAP CPL listed