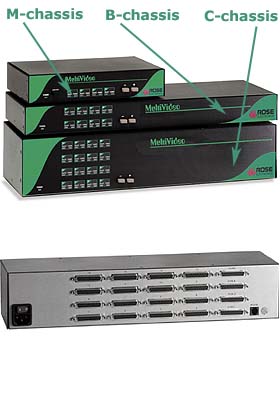 Buy this item and earn 1,929

Club

Points.
Single user KVM switch for PCs with multi-monitor video cards.
MultiVideo is for a specialized market of switching computers which have multi-monitor cards installed. These cards have multiple VGA ports on them. From each computer to the MultiVideo you connect a single keyboard and mouse, but multiple video ports. All video ports from a computer are switched simultaneously when switching computers.
MultiVideo delivers keyboard command switching between different CPUs that are sending multiple video signals. You can also send a command to the MultiVideo's serial port if you want to switch from a control center. With MultiVideo a user can easily switch between eight (8) computers to view up to 2 video outputs per CPU.
MultiVideo's high resolution is sure to provide a clear picture on all the video monitors.
MultiVideo can be chained together to support up to 64 computers.
Cables
Rose's UltraCable streamlines the cable connections to MultiVideo, simplifying cable management and improving system reliability. Order the computer or user cable by the computer's keyboard, monitor, and mouse connector style and desired length. The connection to the extra video port connects to DB25 connectors on the MultiVideo. You can order the correct cable for PC, Apple, Sun, BNC, or any video type that you have.
Installation
MultiVideo is easy to install. You simply connect your computer's keyboard, video ports, and mouse to MultiVideo's ports using UltraCable. Though usually not required, you can use simple keyboard commands to configure the switch and save the configuration in flash memory.
Flash Memory
MultiVideo contains flash memory which simply means it will never become obsolete. Rose Electronics provides free lifetime firmware upgrades. They are available from our FTP site via the Internet. It is simply matter of loading in new firmware into the MultiVideo to add new features and support new equipment.
OSD (On Screen Display) - Advanced Visual Interface
This option adds the Advanced Visual Interface on-screen display card to MultiVideo. The interface is intuitive since it uses pop-up boxes to make selections. Help lines are shown for each item to make the interface even more user-friendly. You can easily configure the computer names, security, appearance, screen saver, and many other features with ease and style. Use the AVI to configure the unit, connect to computers by name, and see which computer you are connected to.