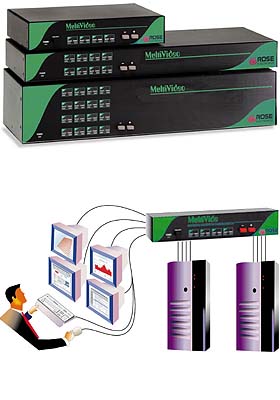 Single user KVM switches with dual- or quad-video
MultiVideo is for specialized applications of switching computers which have multi-monitor video cards installed. These cards have multiple VGA ports on them. From each computer to the MultiVideo you connect a single keyboard and mouse, but multiple video ports. All video ports from a computer are switched simultaneously when switching computers.
MultiVideo delivers keyboard command switching between different CPUs that are sending multiple video signals. With MultiVideo a user can easily switch between multiple computers to view up to 4 video outputs per CPU. Audio switching is available in multiplatform models. Daisy chain MultiVideo units to support up to 64 CPUs.
Available in PC or multi-platform, the MultiVideo uses simple keyboard commands to switch between computers. The optional on-screen display allows you to switch from its streamlined visual interface and shows which computer you are switched in a choice of colors, position, font size, and font style.
MultiVideo is available in five (5) different port configurations:
• 2 computers, each with 2 video ports
• 2 computers, each with 4 video ports
• 4 computers, each with 2 video ports
• 4 computers, each with 4 video ports
• 8 computers, each with 2 video ports
You also have a choice between PC models or multi-platform models.
The multi-platform model is the most versatile. It will convert any keyboard and mouse to any other. It has direct support for PC, Apple, Sun, and Unix workstations.
The PC models support only PS/2 and USB keyboards and mice, while the multi-platform will support PS/2, USB, Sun, and Apple keyboards and mice.
• Uses UltraCable™ for superior cable management with lengths of up to 100 feet
• Video resolution up to 1600 x 1280
• Optional Advanced Visual Interface (AVI) on-screen display for configuration and computer selection
• Security system with configuration and user passwords prevents unauthorized configuration and access
• Switch computers from your keyboard, front panel, AVI, or RS232 port
• Multi-platform models converts PC, UNIX, Apple, or Sun keyboard and mouse data to any platform
• Built in daisy-chaining to support up to 64 computers
• Pre-configuration feature allows installation without powering down in most servers
• Flash memory with free lifetime upgrade of firmware keeps compatibility with latest devices and features
• Made In USA