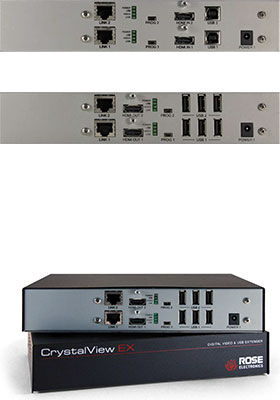 Buy this item and earn 2,209

Club

Points.
CRK-1DTXT2HM-2T-HD6: 2-port HDMI and USB 2.0 CATx extender
330 feet, mini-chassis
---
• Extends two uncompressed HDMI video signals and two USB 2.0 signals (from two computers) up to 330 feet over a single CATx cable per port
• Supports resolutions up to 4K 3840x2160 @ 30Hz
• Supports CEC / HDCP / Lip-Sync pass-through
• Supports audio via USB
• Receiver provides 3 high speed USB 2.0 connectors (per port) with up to 40 Mbps throughput supplying 500ma power
• Transparent USB provides true plug and play extension of USB 2.0 devices, including keyboard, mouse, flash drives, audio peripherals, touchscreens, and more
CrystalView EX HDMI multi-port is a high performance KVM extender. The product transports multiple uncompressed 4K HDMI video and USB 2.0 signals up to 330 feet (100m) over CATx cables. CrystalView EX HDMI multi-port extender supports HDMI graphic interfaces in an uncompressed video format. This full speed uncompressed video data transfer format prevents picture corruption and frame drops. The extender will maintain a smooth and clear picture even when displaying video in the highest resolution up to a distance of 330 feet (100m) over a CATx cable.
It also extends USB keyboard and mouse signals. Using enhanced USB emulation, a wide range of USB HID and USB 2.0 devices are supported. Three USB ports are available on the Receiver unit, with the capacity to expand the number of ports to 30 by using USB hubs. Each USB port has 500 ma of power for USB devices requiring higher power to operate.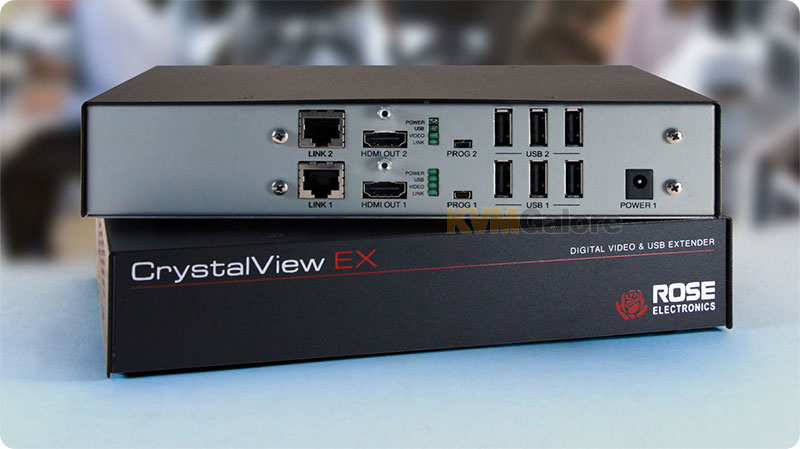 CrystalView EX HDMI multi-port is used to aggregate several HDMI+USB extensions into one chassis. Each port requires a separate CATx cable.
CrystalView EX HDMI multi-port is used in a variety of commercial, industrial, military, residential, medical, data center, retail, hospitality, presentation, and other environments. The extender enable the computers to be placed in a tamper-proof secure locations with optimized power and cooling. This also brings displays and devices to convenient locations near the users. Place them in your environment to extend computers for CAD operation, kiosks, conference room and auditorium uses, medical equipment, touchscreen digital signage, and many other applications.
CrystalView EX HDMI multi-port extender consist of a Transmitter unit and a remote Receiver unit connected by up to 330 feet (100 m) of CATx cable. Use one CATx cable per port.
Installing CrystalView EX HDMI multi-port extender is very straightforward. For each set of video and USB...:
1. Transmitter video connects to computers with HDMI male-to-male cables
2. Each Transmitter USB connects to computers with one standard USB Type-A to Type-B cable; USB ports can be either USB 2.0, or 1.1 computer host ports
3. Receiver video connects to displays with HDMI male-to-male cables
4. Receiver USB devices plug in directly to the USB Type A receptacles of the Receiver. Powered USB hubs can also connect to these ports to increase USB devices beyond
three
5. Connect CATx cables between the Transmitter and Receiver RJ45 link ports
6. Connect the supplied power adapters to the Transmitter and Receiver units
Features and Benefits
• A multi-port extender with each video port also having a USB extension
• Uncompressed video extension provides uncompromised quality at resolutions up to 4K 3840x2048 @ 30Hz
• Supports USB 2.0 at speeds to 40 Mbps
• Compatible with Windows, OS-X, and Linux
• Supports HDCP and HDMI CEC
• Transparent USB provides plug-and-play installation with no configuration required
• Remote USB ports provide 500mA each
• USB 2.0 audio devices are supported
• Optional locking DC power supplies
• Optional rack-mount kit
Package Contents
1x Transmitter unit
1x Receiver unit
2x 5V, 3A power adapters
1x Manual
Cables not included
Required Cables (per port)
1x HDMI, male-male
1x USB, Type-A to Type-B
1x Link CATx
Output HDMI, male-male or HDMI to DVI, male-male