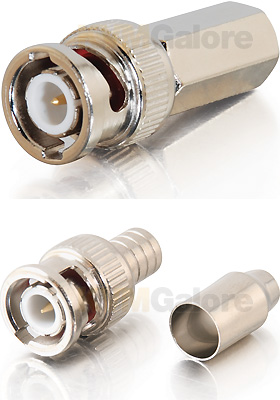 RG59/62 BNC Crimp-On/Twist-On Connectors
High-quality BNC crimp-on and twist-on connectors used to customize the length of RG59/62 cables; backed by Cables To Go's lifetime warranty
Read more below...

$1.99
Compare to MSRP $5.99 -
You save $4.00

$1.46
Compare to MSRP $4.99 -
You save $3.53
Make the Right Connection!
Looking for high quality, cost-effective connector components?
Cables To Go carries many BNC connectors in twist-on and crimp styles, terminators for both 75 Ohm and 93 Ohm applications. They also carry other couplers, T-Connectors and bulkheads that may not be shown here.
If you don't see the connector you need, please contact them.