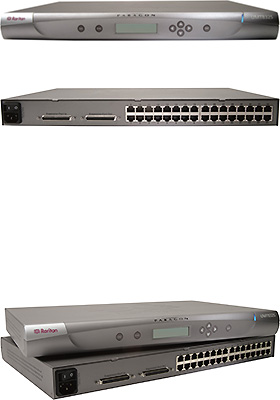 Buy this item and earn 5,209

Club

Points.
P2-UMT832S: 8-user, 32-port in-band KVM over long-distance CAT-5 switch
Paragon II's superior KVM switch technology dramatically reduces equipment costs and optimizes space utilization. This generation of Paragon provides the levels of manageability, security and superior video quality needed to simplify management of business-critical data centers.
The UMT832 brings Paragon II power to 8 users and 32 devices.
Innovative Modular Architecture
Paragon II distributes KVM switching and control functions across modular, intelligent components:
• Main Switching Unit – A secure, intelligent, non-blocked control unit that connects users to servers. Its stackable architecture provides the industry's highest port density making it ideal for large data centers with densely packed racks.
• Stacking Unit – A cost-effective, space-saving expansion unit that allows you to easily add up to 128 non-blocked ports per switch with 90% less cable than cascading. Stacking units are compatible with Paragon II models UMT832M and UMT1664M.
• User Station – Designed to fit conveniently under the user's monitor, the Paragon II User Station includes an intuitive on-screen user interface (OSUI) for easy access to attached servers. Connects to USB, Sun and PS/2.
New User Station with Integrated IP Access – Includes KVM over IP capability for anytime, anywhere access and control along with a slim design and GUI for point and click remote access.
• Computer Interface Modules (CIMs) – Provide "keep-alive" keyboard/mouse emulation at the server. Just plug the CIM into the server's keyboard, monitor and mouse ports and connect it to Paragon II with a single Cat5 cable. New smaller and slimmer Paragon II CIMs provide the added convenience of firmware upgradeability without interrupting the installed configuration.
Features
• Continuous server availability via "keep alive" technology
• Simple Plug-and-Play auto-configure installation
• Industry's broadest range of port devices
• Multi-platform CIMs for PS/2, Sun, USB, and serial devices
• Flash firmware upgrades
Flexibility and Scalability
• Streamlines management capabilities with event logging and audit trails
• Distributed architecture lets you physically position servers and users where desired
• Includes integrated power management capabilities for remote power recycling
• Ability to add, relocate and hot-swap components without disruption as data center needs change
• Deployable as an individual solution or integrated with any of Raritan's enterprise data center solutions including CommandCenter.