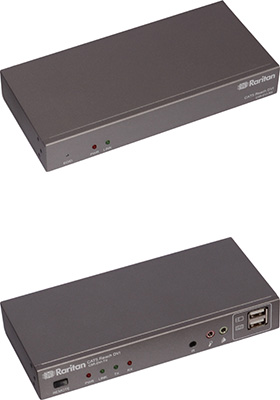 Buy this item and earn 657

Club

Points.
C5R-DVI: High-quality, secure extended access to DVI PCs, servers and KVM switches
Minimize your risk, store your PCs, servers or KVM switches in secure, non-harsh environments, while still having remote access and control.
Cat5 Reach DVI KVM Extender provides 1080p HD video quality and protection while enabling remote access to DVI and VGA ports on PCs, servers or KVM switches.
The remote user console (USB keyboard, USB mouse, video, audio and IR control) can be up to 500 away from the remote device, enabling its storage in separate, secure, non-harsh environments. A range of up to 3000 feet is supported by daisy-chaining using Ethernet switches or hubs.
Dual console support enables local and remote control. The remote button on the Transmitter unit is used to enable and disable the connection to the receiver. The factory default for both the receiver and the transmitter is "enabled". To prevent the local console operation from being disturbed by a remote user, disable the remote console. After completing the local operation, re-enable the remote console by press the remote button.
Cat5 Reach DVI KVM Extender also supports speakers and microphones.
Easy to install, easy to use - Each Cat5 Reach DVI model includes a transmitter and receiver pair for use with your CAT-5 UTP cable. Just plug a keyboard, video and mouse into the receiver and operate. The video quality is automatically adjusted – no manual adjustments are required.
HD DVI, VGA, and audio output - Single extender supports the ability to remotely access/control high quality audio/video over CAT-5 cable.
Remote access up to 500 feet (or 3000 feet with daisy-chained Ethernet switches) - Remote access enables the PC, servers, and KVM switches to be placed away from non-secure, harsh environments.
Superior 1920x1080 HD 1080p video resolution - Provides the same high quality video output as you would get if you were directly connected.
Support for USB keyboard and mouse - Enables use of common industry standard keyboards and mice.
Dual Local and remote console support - Access the PC, server or KVM switch locally in the data center and/or remotely.
Connections for audio speaker and microphone - Enables audio control of the accessed PC, server or KVM from the remote server.
Support for EDID emulation - Automated video resolution calibration when connected to a KVM switch.
Support for Infrared remote control - Use infrared remote control to remotely control your TV, DVD players.
Video share to multiple receivers via Ethernet switches- Enables multiple users to share video, eliminating the need to have video stored on multiple servers. Cat5 Reach DVI supports one Transmitter unit connected to multiple Receiver units via one Ethernet switch. Some limitations apply:
• Every video configuration supports only one transmitters (TX) to multiple receivers (RX) via Ethernet switches.
• The total extension distance of the configuration is 2,000 feet (600 meters).
• The keyboards and mice have to be the same model throughout the configuration.
• Keyboard and mouse control on the receivers is first-come first-serve. One receiver is controlling and the other receivers are in view only mode.
Support for a wide range of configurations and Raritan KVM switches - Cat5 Reach DVI supports a wide variety of uses, connecting to PC's, servers and Raritan KVM switches. Both DVI and VGA video is supported with USB keyboard and mouse control.
For audio/visual applications, speaker, microphone and Infrared remote control is available.
Remote and local (at-the-rack) control is supported.
The local port of a KVM switch can be extended and distant servers can be connected to a KVM switch.
Features and Benefits
• HD DVI, VGA, and audio output
• Remote access from 500 feet (150 meters) to 3000 feet (900 meters) (with Ethernet switch daisy-chaining)
• Superior 1920x1080 HD 1080p video resolution
• Support for USB keyboard, and mouse
• Local and remote consoles (remote access via pushbutton)
• Connections for audio speaker and microphone
• Support for infrared remote control and EDID emulation
• Video share to multiple receivers via Ethernet switches