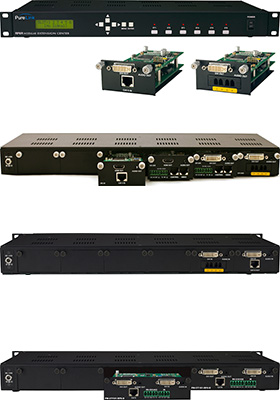 Rack-mountable 1RU frame for RF6 Full HD extenders
mounts up to 6 interchangeable CAT5- or fiber-based DVI/HDMI, audio, RS-232 and IR extension modules with single PSU
---

Finally, PureLink brings order to the chaos of the modular extension category. Up till now, modular extension modules have all been too small for rack mounting, creating a messy, cluttered jumble of small black boxes in the rack.
PureLink is pleased to introduce the breakthough PureLink RF6 rack mount assembly for extension modules, plus a new series of smaller transmitters and receivers designed for slot-loading into the chassis.
RF6 Extension Center is a revolutionary 19", 1-RU size rack mount assembly for DVI/HDMI fiber-optic/CAT-5 extension modules. Various transmitter and receiver modules are designed for slot-loading into the RF6 main frame.
Able to mix fiber optic and CAT-5 extensions, RF6 Extension Center features power supply for up to six modules per chassis, eliminating a lot of small adapter type power supplies, housed in a 1RU rack housing.

Compact and durable design along with lower power consumption makes it an ideal solution for connection of high definition video/audio signal of digital displays such as LCD/Plasma/LED displays and projectors.
This pure fiber optic/CAT-5 connection enables electrical noise free and EMI free that is ideal for long distance/mid-range extension of high definition DVI/HDMI signals with audio.
Intuitive LCD panel on RF6 Extension Center shows the status of the video and audio signals including the current signal image format and audio format. This information provides helpful diagnostic information.
RF6 Extension Center accommodates up to 6 single-slots or 3 double-slots. It is space saving design with rack mountable enclosure.
Receivers
DR1000: DVI; audio; 4x LC fiber-optic; 5,000 feet
DR1000RV: DVI/VGA; RS-232; 4x LC fiber-optic; 5,000 feet
HR1000: HDMI; audio; 4x LC fiber-optic; 5,000 feet
Transmitters
DT1000: DVI; audio; 4x LC fiber-optic; 5,000 feet
DT1000RV: DVI/VGA; RS-232; 4x LC fiber-optic; 5,000 feet
HT1000: HDMI; audio; 4x LC fiber-optic; 5,000 feet
Chassis
RF6: Up tp six (6) slots; one (1) PSU; 19" rack-mount