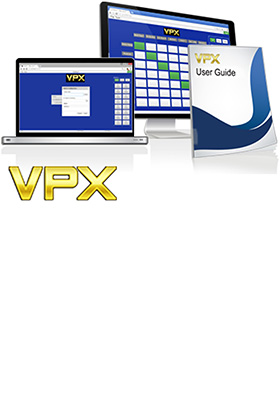 Buy this item and earn 200

Club

Points.
IP video management software

VPX IP video management software offers advanced system tools that simplify setup, operation, and management of VIP series IP video distribution systems.
VPX capabilities include automatic discovery of VIP-200 and VIP-300 transmitter and receiver modules, preset and automation schedule creation, external control API, detailed diagnostic reporting, browser UI, and matrix switching up to 32x32.
Features and Benefits
• Device discovery – detects all available transmitters and receivers on network
• Device mapping - automatically build I/O map or manually create/edit (on or offline mode)
• Presets – create/preview up to 16 presets and automate execution schedules
• External control connectivity for third-party control systems
• Browser interface – easy access through options such as Wi-Fi tablets and various operating sytems
• Advanced diagnostics - monitor entire system with event log
• Up to 32x32 matrix switching control
VPX IP Video Management Software Options & Features
Features
VPX
VPX Plus
VPX Custom
Windows Server Program
Ο
Ο
Ο
Mac or Linux OS option
Ο
Browser-based UI
Ο
Ο
Ο
Application specific UI
Ο
Auto Discovery
Ο

Ο

Ο

Manual configuration

Ο

Ο

Ο

Dynamic Diagnostics

Ο

Ο

Ο

Automated Presets

Ο

Ο

Ο

Preset Preview

Ο

Ο

Ο

Event Log with Date/Keyword Filter

Ο

Ο

Ο

Third Party Control via HTTP API

Ο

Ο

Ο

VIP200 Support

Ο

Ο

Ο

VIP300 Support with videowall / scaling

Ο

Ο

Ο

Future VIP modules

Ο

Ο

Ο

Up to 32 x 32 matrix

Ο

Up to 100 x 100 matrix

Ο

Custom matrix sizing

Ο

Graphical Floor Plan style UI

Ο

Ο

Text Entry IO assignment

Ο

Ο

E-mail reporting, alerts

Ο

Ο

Display Control
Developing
Developing
Developing