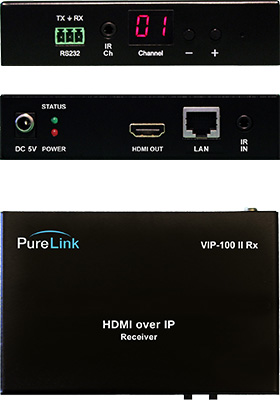 Buy this item and earn 400

Club

Points.
PureStream HDMI over IP receiver/decoder
with PoE
---
Note: Transmitter (encoder) units are purchased separately

VIP-100 II HDMI over IP distribution system provides video, audio, RS-232, and IR extension, distribution and matrix switching capabilities. Transmitter (encoder) and receiver (decoder) modules can be connected together for point-to-point extension over distances up to 394 feet (120m), as well as a point-to-many, many to point, and matrix connections providing up to a 64x190 matrix switching system, or even a 64 x 65K system based on Class B networks. You can operate the VIP-100 II system easily with the supplied remote control or receiver front panel channel buttons.
VIP-100 II IP video receiver extends and distributes HDMI, RS-232, and IR over IP. VIP-100 II also provides point-to-point extension at distances up to 394 feet, as well as matrix switching of multiple devices, all with PoE support and convenient channel-viewing using the front panel LED display.
The receiver provides the following functions:
• HDMI output
• RS-232 [3 pin phoenix connector] : Bidirectional RS-232 with selectable baud rates: 9600; 19200; 14400; 38400; 56000; 115000;
• Infrared in 1/8" jack: when the transmitter is linked to a receiver, the IR In of the receiver can send infrared commands to the transmitter, for example using a remote control near the linked receiver location to operate a source [e.g. Blu Ray player] at the transmitter location.
The remote control allows channel switching at the Rx (receiver/decoder) module, when coupled with an IR extension receiver.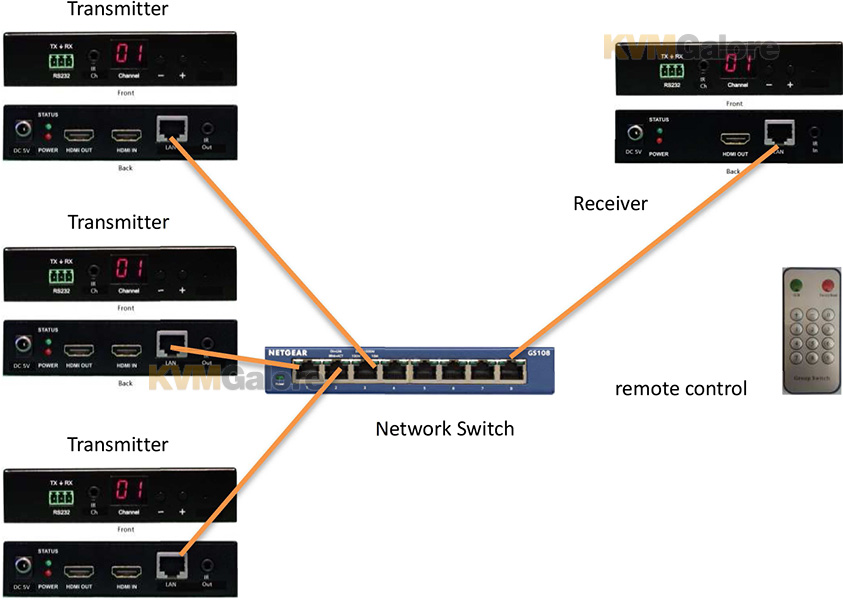 Network switch requirements
While a point-to-point normally is configured with the transmitter and receiver directly connected to each other by CATx cable, it is possible to have point to point over a network switch. The requirements for a network switch are:
• IGMP
• JumboFrame
Because transmitters create continuous streaming traffic of video on the network, it is recommended when possible to create your IP video network independent of your data network, or use a managed network switch. Use of gigabit switches with jumbo frame and IGMP support is required and will create the most appropriate scenario for both independent IP video networks, and cases where IP video systems are included within your data network.
Network switch recommendations
VIP-100 II modules can operate from 802.3af compliant PoE enabled network switches. VIP-100 II devices do not require a managed switch to operate. When the VIP devices are specifically on their own independent network switch, an unmanaged switch is sufficient. A managed switch may provide value in an application where the VIP devices reside on a network with other devices that may be impeded due to network traffic created by the VIP video/audio streams.
Two products in one
VIP-100 series allows point to point and many to many (matrix) configurations:
• Point-to-point: 394 feet over CATx
• Matrix system: - up to 64 x 190 matrix (hardware) on Class C networks; - up to 64 x 65K on Class B networks
Two modes of IP addressing
VIP-100 II provides two IP methods, static (manual), and DHCP. the factory default setting of the modules are static.
• Manual (static) IP addressing: VIP-100 II device IP addresses can be configured manually (static). By connecting to a VIP-100 II module with a computer that is set to the same IP family, you can then access their built in web page interface to change the devices to static IP address of IP mode if not already set. These settings are normally done prior to adding on to a network.
There may be applications where you want to use a network switch that either provides DHCP addressing where the switch assigns all devices an IP address, or manual addressing where you set the IP addresses of the devices.
• DHCP addressing: VIP-100 II device IP addresses can be configured to accept IP addresses using DHCP. Access the built in web page interface to change the devices to DHCP IP mode.
VIP-100 II Transmitters and Receivers ship in Static IP mode, which allows them to discover each other with no configuration required. While it is possible to reconfigure the transmitter and receiver to DHCP IP mode, it may not be necessary to make these changes in a many to point configuration, unless you need them to be on a network with other devices, or a network that has a DHCP IP method already employed.
Features and Benefits
• Support resolutions up to Full HD/1080p
• LED channel display
• Front panel channel plus/minus buttons
• IR remote control for familiar channel selection
• PoE (Power over Ethernet) – power encoders/decoders from 802.3af PoE network switches
• RS-232 extension/distribution
• IR extension (receiver to transmitter)
• HDMI Loop out on Transmitter
• HDCP 1.3 compliant
• Full HDMI 1.3
• 64 transmit channels
• Easy channel setup on transmitters with front panel buttons and LED display
• Easy channel selection on receivers with front panel buttons, IR remote control, and LED readout
In the Box
1x VIP-100 II Rx
1x Power Adapter
1x Infrared Emitter
Mounting brackets
Remote Control