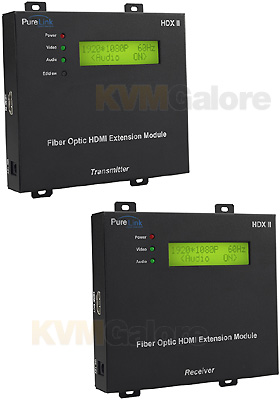 Buy this item and earn 900

Club

Points.
HDCP compliant fiber-optic HDMI extender
over 4x LC, up to 5,000 feet - Full HD
---

HDX II is a HDMI extension system over pure fiber optic cable for long distance up to 5,000 feet.
PureLink's next generation modular HDX II is designed to be used in installations where large scale matters. It can extend HDMI v1.3 content at 1080p up to distances of 5000 feet, with full HDCP compliance.
Compact and durable design and low power consumption makes it an ideal solution for connection for high definition video/audio signal of digital displays such as LCD/Plasma displays and projectors.
HDX II's unique circuitry and optic conversion design eliminates the need of a copper connection (CAT-5) between the transmitter and receiver. This pure fiber optic connection enables electrical noise free and EMI free that is ideal for long distance extension of high definition HDMI signals with embedded audio.
The LC fiber optic cable is robust enough to be pulled through long conduit paths without damage, with termination into the separate transmitter and receiver modules at each end.
Both modules require an AC power source (supplied) and feature an LED display to confirm resolution status. HDX II's intuitive LCD panel on both transmitter and receiver show the status of the video and audio signals including the current signal image format and audio format. This information provides helpful diagnostic information.
HDX II works with fiber only, using its exclusive Auto-EDID management feature to extend its reach up to 5000 feet with full HDCP compliance. It's easy to use and is the best HDMI extension system on the market today. This is the cutting edge of technology and of course, its a PureLink.
Features and Benefits
• Zero loss and zero noise delivery of digital high definition video and audio signal using optical conversion technology, HDX II delivers HD signals over fiber optic cables without loss or digital interference maintaining the clarity and colors
• Noise cancellation and error correction logic enhances HDMI video and audio signals over long distance
• Built-in signal repeater to support longer distance between the source (and the HDX II transmitter) and HDX II receiver (and the display). This signal repeater logic supports up to 50 feet copper based HDMI cables
• Compact and robust module design
• Long distance (up to 5000 feet at 1080i or lower signal) over cost effective multimode fiber optic cables
• Full EDID management - saving/emulating display's EDID in the transmitter module enhances reliability and compatibility with various displays
• HDCP (High-bandwidth Digital Content Protection) compliant
• HDMI version 1.3 support
• Signal status LCD panel on both transmitter and receiver modules video and audio signal information is displayed on the LCD panels to help understand the signal even before the display is connected. Display Resolution, refresh rates and audio signal status are intuitively displayed on the modules
Plug and play
• Fully compatible with DDWG DVI standard
• RGB, and clock signals are transmitted via fiber optics
Package Includes
HDX II Transmitter module
HDX II Receiver module
2x 6 foot HDMI cables
2x DC 12V power supply units with a power cord