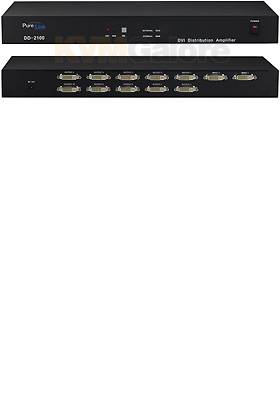 Buy this item and earn 529

Club

Points.

2 DVI inputs to 10 DVI screens distribution amplifier
with dedicated HDCP compliance
---
Note: This product is approaching its end of life (EOL) and is available while supplies last. Sale is final - this item is not eligible for returns.
DD-2100 enables you to switch 2 digital signals and regenerate the signal up to 10 DVI displays. Like all PureLink products, the DD-2100 is built to be the most reliable device of its kind and offers a unique and affordable solution for pro and semi-pro installations where digital switching is a must.
PureLink DD-2100 2x10 DVI distribution amplifier is the ideal solution for consumers who need to send one or two HD sources to up to 10 HDTV's at the same time via DVI.
PureLink's new "flexible EDID option" is an exclusive, advanced feature not found on other distribution amps making the DD-2100 the best choice for reliable operation worldwide with any brand display.
PureLink's DD-2100 DVI video distribution amplifier has one more feature you will love... it is legal!
With full HDCP decryption for all 10 output ports (instead of just the first like all the others), PureLink sets the standard worldwide for DVI signal distribution, guarantying authentic 1080p resolution video which is HDCP-compliant on each output port. In fact, PureLink puts it in writing with their exclusive Certification of Full Compliance and Indemnification.
Discrete HDCP output on each channel, a must-have for 1080p HD content reproduction, is provided. Signal sync time is greatly reduced, shortening the long boot-up time for HD-DVD and Blu-ray players, increasing the use and enjoyment of HD programming with HDCP content protection. Only PureLink certifies in writing that its HDCP compliant devices meet all the criteria of the HDCP license.
High Quality Picture - No Signal Loss and Digital Noise Free
PureLink's Distribution Amplifiers are built to deliver the highest quality picture preserving the native resolutions of the video sources without any signal loss. At the same time, the digital noises that may affect the picture quality will be eliminated. Due to the nature of the digital signals and passing through multiple stages of connection when using distribution amplifiers, it is important to eliminate the digital noises and boost the signal strength to preserve/enhance the video signal quality.
Signal Amplification for Signal Reliability and Long Length Signal Transmission
PureLink's 12V power adapter supplies adequate power to amplify the video signals from the video source. This is necessary as the overall length from the video source to the displays is longer when using the distribution amplifiers(distance from the video source to the distribution amplifier + distance from the distribution amplifier to the display). In most cases, the overall distance that the DVI signal will need to travel is over 10ft. Due to the nature of DVI signals, amplification is necessary to warrant the video quality and reliability. (Without amplification, there may be occasional blackouts or blinking effects) With this amplification feature, your video display can be extended up to 2300ft using PureLink's fiber optical DVI cables.
HDCP (High-bandwidth Digital Content Protection) Compliant
PureLink's DVI distribution amplifiers are fully HDCP compliant. Many video sources such as DVD players and Satellite/Cable Receivers are HDCP encrypted. For these video sources to be displayed correctly, HDCP compliant devices(e.g., TV, DVI Switch, distribution amplifier) are required.
Features and Benefits
• Superb HD Picture Quality up to 1080p, 1920 x 1200 @ 60Hz
• Easily switch any two DVI sources
• Mirrored outputs to 10 HDTVs
• Signal Regeneration allows longer distance connectivity with copper cables (30 ft at 1080p)
• Proven Reliability—Rigorous Aging Tests ensure 100,000+ trouble free hours of operation
• Fully HDCP Compliant
• Active HDCP on every output for quicker boot-up, reliable sync without crashes
• Flexible EDID—Improves compatibility with all HD displays worldwide
• Robust Construction—Solid Steel chassis, rackmountable (included)
• Discrete IR Remote
• RS-232 Port
• Installs easily in minutes
PureLink products are guarantied to be 100% HDCP compliant on every single output port.
Package Contents
1x DD-2100 DVI Distribution Amplifier Unit
1x 12V Power Supply Adapter
1x AC Power Cord
1x User manual