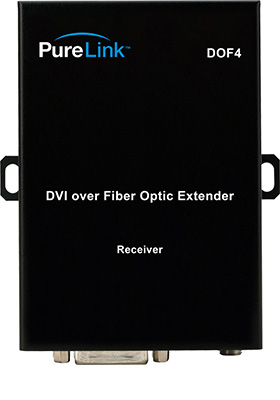 Buy this item and earn 1,200

Club

Points.

DVI + audio transmitter/receiver kit over 4 LC fiber
up to 5,000 feet - Full HD
---
Looking for a better price? Write to us or call us at 1-800-636-3434 and ask for our special offer
---
DOF4 is a DVI uncompressed HD video and analog stereo audio extension system over multimode fiber-optic cable for long distance up to 5,000 feet.
Compact and durable design and low power consumption makes it an ideal solution for connection for high definition video/audio signal of digital displays such as LCD/Plasma displays and projectors.
DOF4's unique circuitry and optic conversion design eliminates the need of a copper connection (CAT-5) between the transmitter and receiver. This pure fiber-optic connection enables electrical noise free and EMI free that is ideal for long distance extension of high definition DVI signal, and stereo analog signal.
Features and Benefits
• Zero loss and zero noise delivery of digital high definition video and audio signal using optical conversion technology, DOF4 delivers HD signals over fiber-optic cables without loss or digital interference maintaining the clarity and colors. Noise cancellation and error correction logic enhances DVI video and audio signals over long distance
• Built-in signal repeater to support longer distance between the source (and the DOF4 transmitter) and DOF4 receiver and the display
• Compact and robust module design
• Long distance (up to 5,000 feet at 1080i or lower signal) over cost effective multi-mode fiber-optic cables
• Auto EDID Management - The definition of Auto EDID management is a way of saving EDID of a monitor into EEPROM in the transmitter module. DOF4 transmitter has 14 different pre-programmed EDID data that can be conveniently selected by end-user. User can also emulate/save display's EDID information into the transmitter which enhances reliability and compatibility with various displays
• HDCP (High-bandwidth Digital Content Protection) support
• DDWG DVI version 1.0 support
Package Includes
1x DOF4 Transmitter module
1x DOF4 Receiver module
2x DC 12V power supply units with a power cords