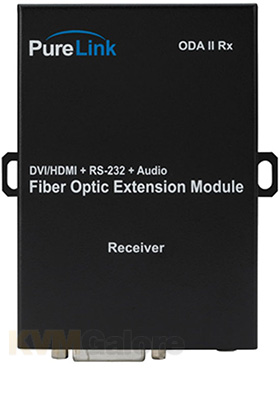 Buy this item and earn 3,000

Club

Points.
DVI, analog/digital audio and RS-232 extension
over 2 LC fiber-optic cables up to 6500 feet - Full HD
---

Purelink's ODA II Tx / Rx is a standalone fiber optic signal extension system capable of transmitting DVI/HDMI, 3.5mm stereo audio and RS-232 signal over a two strand fiber-optic cable. In addition, the fiber type can be either single mode or multimode.
There is a distinctive difference in the distance depending upon the type of fiber cable that is being used. A multimode cable can extend up to 1640 feet (500m) at WUXGA / 1080p @ 60Hz, but the distance significantly increases when using a single mode fiber which can extend up to 6562 feet (2000m) at WUXGA / 1080p @ 60Hz.
By having a flexible fiber solution, PureLink's ODA II provides a convenient and affordable solution for transmitting highest quality video and audio signal in various applications.
High quality picture - no signal loss and digital noise free
ODA II Tx / Rx is designed to deliver the highest quality picture preserving the native resolutions of the digital/analog video sources, or analog stereo audio, or RS-232 communication without any signal loss. At the same time, the digital noises that may affect the picture quality will be eliminated. Due to the nature of the digital signals and passing through multiple stages of connection when using fiber optic extender, it is important to eliminate the digital noises and boost the signal strength to preserve/enhance the video signal quality. ODA II Tx / Rx equipped with Noise cancellation and error correction logic that enhances HDMI video and audio signals over long distance.
Signal amplification for signal reliability and long distance signal transmission
12V power adapter supplies adequate power to amplify the video signal from the video source and it also has a built-in signal repeater to support long distance.
Compact and durable design
ODA II Tx / Rx come in compact and robust design.
Support both single mode and multimode fiber
Multimode can be extended up to 500m at WUXGA / 1080p @ 60Hz, but the distance becomes greater when using a single mode fiber (can be extended up to 2000m at WUXGA / 1080p @ 60Hz).
Auto EDID management
The definition of Auto EDID management is a way of saving EDID of a monitor into EEPROM in the transmitter module before connecting to any video source. ODA II transmitter has 14 different pre-programmed EDID data that can be conveniently selected by end-user, if an external EDID doesn't need to be saved. Saving/Emulating display's EDID in the transmitter module enhances reliability and compatibility with various displays.
HDCP (High-bandwidth Digital Content Protection) compliant
ODA II Tx / Rx is fully HDCP compliant. Many video sources such as DVD players and Satellite/Cable Receivers are HDCP encrypted. For these video sources to be displayed correctly, HDCP compliant devices (e.g., TV, DVI Switch, distribution amplifier) are required.
Package Contents
ODA II-Tx
ODA II-Rx
DC 12V Power Supply Unit with a power cord
User Manual