Solutions by PureLink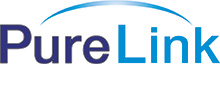 Check out related products from PureLink:
Focused on innovation and quality, PureLink™ is the leading provider of digital connectivity solutions to commercial audio/video and IT markets worldwide. Since its inception in 2001, PureLink™ has been committed to developing cutting-edge audio, video, and computer signal processing solutions, constantly driven by the changing needs of the professional customer.
PureLink™ has pioneered a powerful line of matrix-switching, format conversion, signal distribution, and long distance extension systems that are optimized to support any consumer or commercial application.
All of these advancements have resulted from PureLink's unparalleled R&D and quality assurance, providing customized solutions and setting sights on creating a better user experience.
PureLink's technologies are deployed worldwide by public, private and governmental sectors. Government, military, business, education, entertainment, and health care markets rely on PureLink's technology every day.
Standard warranty: Three years (Lifetime for TotalWire™ non-electronic products)