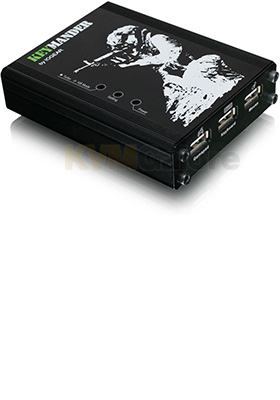 Buy this item and earn 90

Club

Points.
GE1337P: Controller emulator for use with game consoles
use your keyboard and mouse to rule your gaming console
---
Are you a PC gamer or a console gamer who wishes they could use their keyboard and mouse on their game console? Do you find yourself investing more and more into your PC on top of buying the recent games, where as a console gamer only has to buy the game and play full 1080p on their HDTV?
Gamers can now rejoice with KeyMander and take advantage of their keyboard and mouse skills to dominate on their PS3® and or Xbox® video game system.
KeyMander supports Xbox One, Xbox 360 and Playstation3 gaming consoles.*
Gamers Unite
KeyMander Gaming Controller Emulator from IOGEAR takes the console gaming experience to the next level! By connecting your keyboard and mouse to KeyMander, all controller functions can be rapidly and more accurately accessed for that unfair advantage in high-speed first person shooters, role playing games, etc.
Accuracy, Control and Customization
KeyMander's PC software enables macro programming, speed adjustment, key mapping and a number of other advantages to help you gain the upper hand in your online multiplayer battles. Got multiple gamers under one roof? Each person can have their own KeyMander control profile, or even load different keyboard layout profiles for different games.
Create Custom Profiles
Give yourself the advantage you've been looking for with all your favorite FPS (First Person Shooter), RPG (Role Playing Games) and RTS (Real Time Strategy) games. Build your custom profiles with specific needs for specific games or segments of a game. Even better, you can group these profiles per each game or create profiles per the player who's going to play them.
Macro programming, mouse speed adjustments and ballistics editor, custom key mapping.
Create groups for different games or users; have up to 8 profiles to a group.
Quick hotkey profile switching during live gaming!
PC gamers can finally rejoice and enjoy that same gaming experience on a console and HDTV. No longer do you have to upgrade your PC's memory, video card, etc. just to play the latest games. With a game console and the matching KeyMander you can now plug in your keyboard/mouse and enjoy the latest games without emptying your pockets on new PC parts!
Note: Keyboard and mouse not included.
Features and Benefits
• Bring the control and accuracy of your keyboard/mouse toyourgame consolefor the ultimate gaming experience!
• Keymander supports Xbox® One, Xbox® 360 and PlayStation®3 gaming consoles*
• Enables your keyboard and mouse in place of your game console controller
• Great for FPS (First Person Shooter), RPG (Role Playing Games) and RTS (Real Time Strategy) games
• KeyMander's PC Software gives greater levels of configurations and calibrations: Macros, Mouse Ballistics editing, Turbo, and Custom key mapping
• Direct Button mapping using your PS3®, Xbox® 360 or Xbox® Onecontroller for quick and accurate in-game customization
• Stores multiple profiles in groups for different games or gamers for customized advantages
• Create groups for different games or users; up to 8 profiles to a group
• Quick hotkey profile switching during live gaming
• Plug and Play - Start playing right out of the box
• 3-year warranty
Package Content
1x KeyMander Controller Emulator
2x USB Mini to Type A Cable
1x Software Installation CD
1x Quick Start Guide
1x Warranty Card
Note: PlayStation® and PS3® are registered trademarks of Sony Computer Entertainment. This product is not manufactured, sponsored, licensed or distributed by Sony Computer Entertainment. Xbox is registered trademark of Microsoft Corporation in the United States and/or other countries.
* One free KeyMander firmware download is available for your preferred game console.