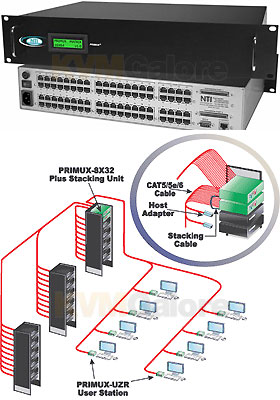 PRIMUX Matrix
8- or 16-user, 32- or 64-port, VGA matrix KVM switches via CATx for multi-rack server environment up to 1,000 feet between users and servers
Read more below...

$11,232.00
Compare to MSRP $11,700.00 -
You save $468.00

$5,856.00
Compare to MSRP $6,100.00 -
You save $244.00
8- or 16-User, 32- or 64-Port, VGA Multi-Platform Matrix KVM Switches via CATx Provide Consolidated Control for Multi-User, Multi-Rack Server Environment up to 1,000 feet Away.
PRIMUX® KVM Matrix Switches via CATx provides non-blocking access for up to 16 simultaneous users to up to 64 servers. The switch frees up valuable space by eliminating large KVM switchboxes and bulky hard-to-manage coax cables.
The PRIMUX® Matrix system consists of three components:
• Matrix Switch, connects users to servers;
• Host Adapters, connect to each server;
• User Stations, connect to each set of user-station equipment – keyboard, monitor and mouse.
The User Stations and Host Adapters can be located as far as 1,000 feet from each other, and are connected to the matrix switch via CAT-5/5e/6 UTP cable.