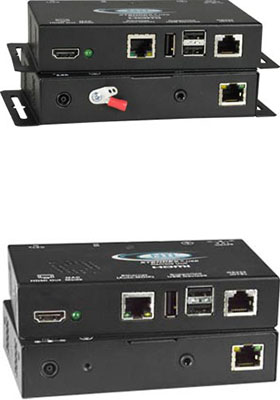 Buy this item and earn 546

Club

Points.
ST-C6USBHE-HDBT: Extend HDMI video @ 1080p, multi-channel audio, USB keyboard/mouse, IR, RS-232 and Ethernet
up to 328 feet over HDBaseT technology with PoE and USB 2.0 peripheral sharing support
---
• Extend 1080p video, USB, IR and RS-232 to 328 feet via one CATx cable
• USB connector for USB touch screen monitor, CAC card reader, or interactive whiteboard
• Ethernet port for network device
• Only one power supply required
XTENDEX® HDMI USB KVM extender over HDBaseT provides remote KVM (USB keyboard, USB mouse and HDMI monitor) access to a USB computer up to 328 feet away over a single CAT-5e/6/7 cable using HDBaseT technology. Each extender consists of a Local unit that connects to a computer, and a Remote unit that connects to a keyboard, monitor and mouse.
HDMI Features Supported
• x.v.Color, sYCC601 color, Adobe RGB Color and Adobe YCC601 color
• Dolby TrueHD, DTS-HD Master Audio, Dolby Digital, and DTS
• Bandwidth up to 154 MHz (3.76 Gbps)
• Support for CEC (consumer electronic control) compatible devices.
• Lip Sync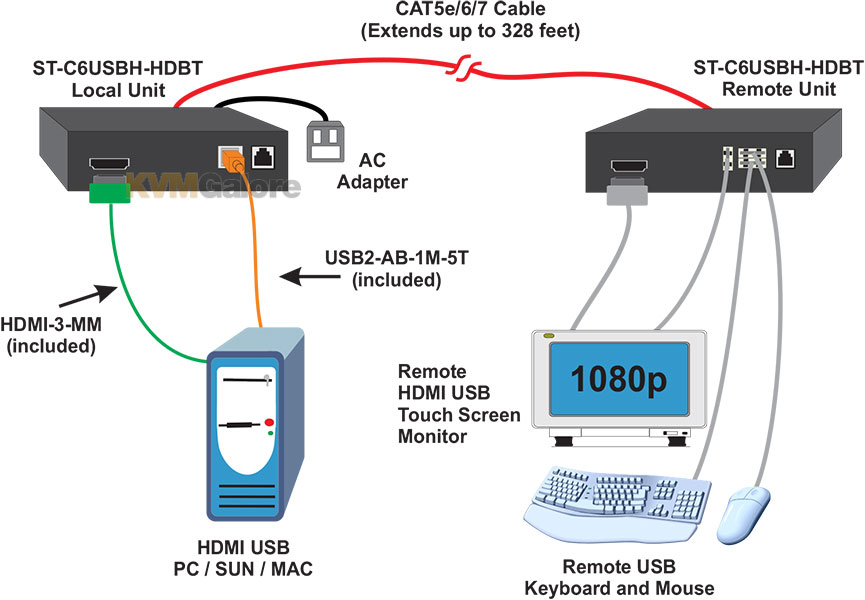 Features and Benefits
• Transmits an uncompressed high speed HDMI signal over one CAT-5e/6/7 cable
• Supports HDTV resolutions to 1080p and computer resolutions to 1920x1200
• Only one power supply is necessary to power both the local and remote units
• HDCP compliant
• Supports the DDC2B protocol
• Full infrared (IR) remote control of HDMI source from remote HDTV using existing source remote control
• USB ports for keyboard and mouse
• Keyboard and mouse are hot-pluggable
• Keep-alive keyboard/mouse emulation for flawless operation
• Features an additional USB port on the remote unit for a touch screen monitor, interactive whiteboard, or CAC card reader
• Bi-directional RS-232 interface
• Ethernet port on the transmitter and receiver for connecting network devices such as 100Base-T routers, hubs, smart TVs or smart Blu-ray players
• Integrated mounting brackets for easy surface/wall mounting
• High quality, rugged steel construction with durable powder coat finish
Package Includes
1x XTENDEX Local unit
1x XTENDEX Remote unit
1x 3 foot male-to-male HDMI video cable [HD-3-MM]
1x 100VAC to 240VAC at 50 or 60Hz-24VDC/2.5A AC adapter
1x Power cord- country specific
1x 3 Foot IR emitter [IR-EMTR-3]
1x 3 Foot IR receiver [IR-RCVR-3]
1x 1 meter USB 2.0 male Type-A to male Type-B transparent cable [USB2-AB-1M-5T]
1x DB9 female to RJ45 female adapter [CT6182]
1x DB9 male to RJ45 female adapter [CT6488]
2x 5 foot RJ45 to RJ45 CAT-5 patch cables [CB4352]