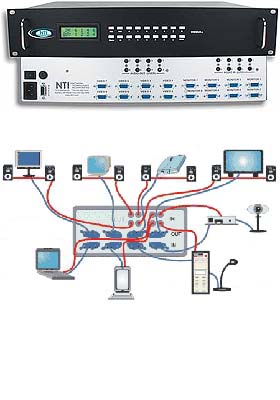 8- 16- or 32-input, 2- 4- 8- 12- or 16-output VGA audio/video matrix switches
switch audio and video from many computers to multiple monitors and speakers
---
VEEMUX® audio/video matrix switches (also known as audio/video routers) are designed to simplify the task of routing video and audio input from many computers to multiple display stations (projectors, monitors, etc.), providing stereo audio switching as well.
VEEMUX® audio/video matrix switch routes audio and video input from many computers to multiple displays (projectors, monitors, etc.) and speakers. This switch can drive standard VGA cables, thus eliminating the need for external interfaces and coax cable connections via BNC connectors.
This easy-to-use switch is the ideal solution for any application where information from many computers is being presented, such as classrooms, boardrooms, trade shows, conference and entertainment facilities, courtrooms, command centers, and control rooms.
Multiple PCs or laptops can be plugged into the VEEMUX switch. Each computer's audio and video can be easily routed to one or more monitors and/or audio speakers. Each video output is buffered from each input, insuring signal integrity throughout the system. When switching ports, the audio automatically mutes until the video has been synchronized. Audio can also be muted on command.
Easy drag-and-drop Matrix Control Software is built-in to all of NTI's Video Matrix Switchers. It provides intuitive and powerful control using an RS232 connection. Users can recall frequently used configurations with the click of a button.