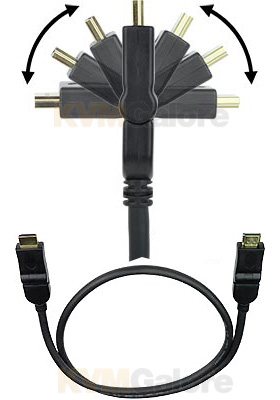 Swivel HDMI 1.3 Interface Cables
180-degree swivel-connector 1080p HDMI 1.3 cables with gold-plated contact pins for connecting flat panel HDTVs where connection space is limited
Read more below...
180° swivel-connector 1.3 HDMI cables
for connecting HDTV, projector, or other digital display to HDMI source in tight spaces
---
• 180 Degree Swivel design is ideal for wall mounted Flat Panel HDTVs, where connection space is limited.
• HDMI Type A male to male cable.
• Supports HDTV resolutions to 1080p and computer resolutions to 1920x1200.
• HDMI 1.3 compliant.
• Supports standard, enhanced or high-definition video, and multi-channel digital audio on a single cable.
• Gold plated contact pins.
• Available in: 3/10/15 feet.