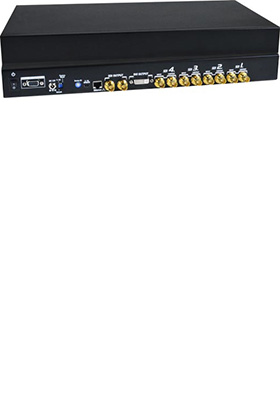 Buy this item and earn 2,024

Club

Points.
SPLITMUX-3GSDI-4: Display real-time 1080p video from four 3G/HD/SD-SDI sources simultaneously on a single display
Highlights
• 3G/HD/SD-SDI inputs with DVI & SDI outputs
• HDTV resolutions to 1080p and computer resolutions to 1920x1200
• Full Screen and Custom Display Modes
• The size, position & selection of any or all windows are customizable.
SPLITMUX® 3G/HD/SD-SDI Quad Screen Splitter/Multiviewer allows you to simultaneously display real-time SDI or DVI video from two, three, or four different SDI sources on a single monitor.
It is capable of displaying the video sources in full screen or custom mode on up to three monitors at the same time. In custom display mode, each of the quadrants can be adjusted to any size and positioned to any location on the display, such as to mimic Picture in Picture or Quad display modes.
Display Modes
Full Screen Mode
In full screen mode, one of the four video sources is displayed in full screen size and maximum resolution.
Custom (PAP) Mode
• In Custom mode, each video source is displayed in its own separate, detached window.
• Size, position and selection of the windows are customizable.
• Use Graphical User Interface (GUI) to configure settings for each window.
• Presets of the window positioning can be saved.
• Mimic Picture in Picture and Quad Screen display modes.
• Borders can be set for each image input.
Control Methods
Graphical User Interface (GUI)
• Configuration and control can be done using the Graphical User Interface (GUI).
• Connect via an RS232 or Ethernet connection.
• Initial setup must be done through the RS232 connection.
Features and Benefits
• Full Screen and Custom display modes.
• Custom Display Mode: the size, position and selection of any or all windows are customizable.
• 2- and 3-source viewing is possible with this method.
• Maintain input aspect ratio if desired – no stretching necessary.
• Mimic Picture in Picture and Quad Screen display modes.
• Independent video in to video out resolution.
• Display the same video output configuration on up to three monitors at the same time with two SDI outputs and one DVI output.
• Supports HDTV resolutions to 1080p for 3G/HD/SD-SDI outputs and computer resolutions to 1920x1200 for DVI output.
• Supports embedded audio through SDI-compatible displays or audio receivers.
• Fluid, real-time video performance with 60 frames per second (fps) in all four quadrants.
• Supports a local display for each video input via corresponding loop out SDI connectors.
• A customized text label can be added for each video window and input to provide easy identification (UMD).
• Display a digital or analog clock in any position.
• Control the multiviewer through the Graphical User Interface (GUI) which can be connected via RS232 serial port or Ethernet.
• Backup and restore multiviewer configurations.
• Built-in default EDID configuration tables.
• Supported output resolutions can be selected.
• 2-year warranty
Package Includes
• One 3GSDI Multiviewer
• One 12V, 5A power supply
• One USB to RS232 cable
• 1RU rackmount kit.
• User Manual