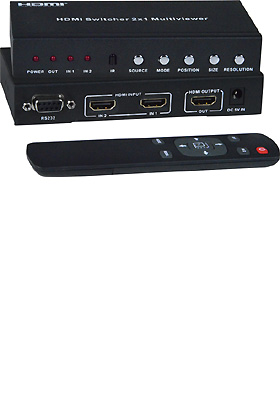 Buy this item and earn 166

Club

Points.
SPLITMUX-HD-2RSLC: Display real-time 1080p video from two HDMI/DVI sources simultaneously on a single display
low-cost HDMI dual-screen splitter/multiviewer with IR and RS232
---
SPLITMUX® Low-Cost HDMI Dual Screen Splitter/Multiviewer allows you to simultaneously display real-time HDMI/DVI video from two different sources on a single monitor.
It is capable of displaying the video sources in dual, PiP or full screen mode.
Supported Resolutions
• Inputs: HTDV resolutions to 1080p and computer resolutions to 1920x1200
• Output: 1080p, 1080i, 720p, 1024x768, 1360x768
HDMI Features Supported
• Inputs: 24-, 30-, and 36-bit xvYCC, sRGB, and YCbCr
• Outputs: 24- and 30-bit sRGB
• Two-channel non-mixing stereo with PCM2, 5.1, 7.1 channels, Dolby 5.1, and DTS 5.1 audio
• Bandwidth up to 225 MHz (6.75 Gbps) - Inputs: 2.25 Gbps; Output: 2.0625 Gbps
Features and Benefits
• Dual, Picture in Picture, and Full Screen display modes.
• Independent video in to video out resolution.
• Fluid real-time video performance with 60 frames per second (fps).
• Switch audio independently of video from connected HDMI sources in Dual mode.
• Any DVI source or display can be connected by using the DVI-HD-xx-MM cable (not included).
• Use DVIA-HD-CNVTR-LC or DVI-HD-CNVTR DVI + Audio to HDMI Converters to pass and independently switch audio signals to the multiviewer.
• Use the front panel buttons to locally change ports, select a display mode, or change resolutions.
• Built-in default EDID table.
• IR and RS232 control.
• HDCP Compliant.
• Warranty: Two Years.
Package Includes
• One HDMI multiviewer
• IR remote control
• One DB9 RS232 serial male-to-female cable
• One power supply
• Wall mount brackets with screws
• User manual