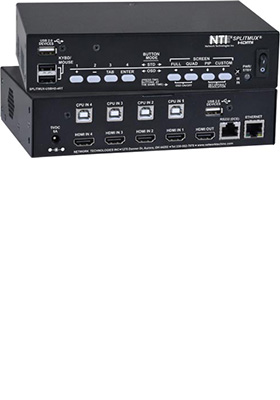 Buy this item and earn 3,322

Club

Points.
SPLITMUX-USBHD-4RT-2R: HDMI quad screen-splitter/multiviewer with built-in USB KVM switch
for displaying video from four HDMI/DVI computers simultaneously on a single monitor; switching to and controlling any of the four computers while monitoring the other three connections in real time
---
SPLITMUX® HDMI quad screen multiviewer with built-in USB KVM switch allows you to simultaneously display video from four different computers on a single monitor. Additionally, it can switch one of the four attached computers to a shared keyboard and mouse for operation and to two additional USB devices.
It is capable of displaying the video sources in quad, PiP, full, or custom mode. In custom display mode, each of the quadrants can be adjusted to any size and positioned to any location on the display.
Quad mode
In quad mode, the screen is split into four fields of equal size each displaying the entire contents of the corresponding input
Fluid, real-time video performance with up to 60 frames per second (fps) in all four quadrants
Borders can be set for each image input
Aspect ratio can be maintained for all outputs


Full screen mode
In full screen mode, one of the four video sources is displayed in full screen size and maximum resolution
Scan feature: cycle through four different sources at set intervals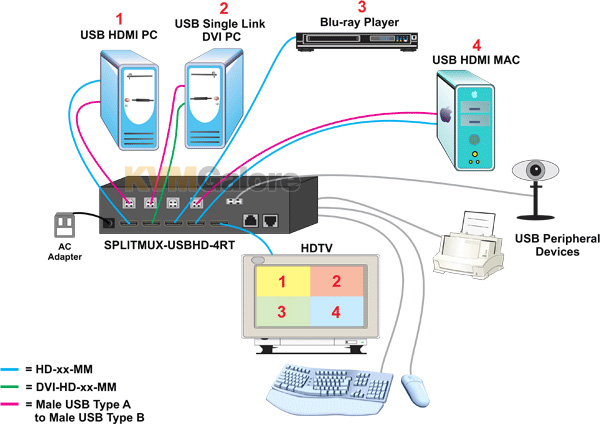 Picture in picture (PiP) mode
In PiP mode, the full screen display of one of the four video sources is accompanied by one, two, or three small images (thumbnails) of the three other video sources on the right hand margin of the screen, allowing simultaneous monitoring
Size, position and selection of the thumbnails are customizable
Scan feature: cycle through two or four different sources at set intervals for the larger image
Borders can be set for each image input
Aspect ratio can be maintained for all outputs


Custom mode
In custom mode, each video source is displayed in its own separate, detached window
Size, position and selection of the windows are customizable
Use web server graphical user interface to configure settings for each window
Zoom, pan, and crop the image from any source to focus on key areas
Presets of the window positioning can be saved
Borders can be set for each image input
Display optional Left/Right VU level indicators for each corresponding display window
Configure up to 10 preset layouts that can be switched live at any time


Control methods
Front Panel Interface
Use front panel buttons to locally change ports or to select a display mode


Ethernet Control
Configuration can be done over the Internet/LAN via Web page or Telnet
Supports Internet Explorer 6.0 or higher, Firefox 2.0 or higher, Opera 9.0, Google Chrome, Safari 4.0 or higher for Mac and PC
Configure and control the settings for the system, network, input, output, and modes
Female RJ45 connector
10/100 BaseT Ethernet interface


Web Server
Security is ensured by password and user configurable timeout
Up to 16 users can access the web page at one time
The user with administrative privileges can access the following pages:

System page: allows configuration of unit, serial port, and OSD settings
Network pages: configure IP and server settings
Inputs page: allows configuration of the four video inputs
Output page: configure the video and audio output parameters
Modes page: allows selection and configuration of the output display mode
User Config page: add, configure, and view all users
Firmware page: update firmware for the SPLITMUX


Telnet
Security is ensured by password
Menu commands are similar to RS232 commands
The telnet server listens on port 2000
Port 2000 is for an operator telnet session


On Screen Display (OSD)
Select display modes and computers with On Screen Display (OSD)
Use the front panel buttons or keyboard commands to operate the OSD
OSD controls for configuration and control of the system, network, input, output, and display modes
Access to OSD Mode can be limited by an administrator-assigned PIN number


RS232
Configuration and control can be done through the serial port
Female RJ45 connector
Control the multiviewer using the Text Menu via RS232
Selectable baud rate: 1200 to 115,200 bps
Baud rate is set via the front panel interface, serial command, OSD, or web interface


Infrared Remote Control
Routes video and audio signals together or independently
Transmitter can be up to 30 feet (9.1 meters) away
Power: two AAA batteries (included)


Keyboard/Mouse
Use hotkey commands to select display mode and to select port
Support for hotmouse commands coming soon


HDMI features supported
• Inputs: 24-, 30-, and 36-bit xvYCC, sRGB, and YCbCr
• Outputs: 24- and 30-bit sRGB
• Four-channel non-mixing or one channel mixing stereo with 16-, 20-, or 24-bit uncompressed PCM audio
• Bandwidth up to 165 MHz
• Inputs: 2.25 Gbps
• Output: 2.0625 Gbps
Features and Benefits
• Quad, Picture in Picture, Full Screen, and Custom display modes
• Custom Display Mode: the size, position and selection of any or all windows are customizable
2- and 3-source viewing is possible with this method
Maintain input aspect ratio if desired-no stretching necessary
Layer display windows and adjust transparency of each video source display
• Switch one of the four attached computers to a shared USB keyboard and mouse for operation
• Supports 2K resolution 2048x1080, HDTV resolutions to 1080p, and computer resolutions to 1920x1200
• Independent video in to video out resolution
• HDCP compliant
• Fluid, real-time video performance with up to 60 frames per second (fps) in all four quadrants
• Zoom, pan, and crop the image from any source to focus on key areas
• Switch audio independently of video from connected HDMI sources
• Multiple audio sources can be simultaneously active in any display mode or preset layout
• Adjustable audio gain with VU level indicators for each input channel
• A customized text label can be added for each video window to provide easy input identification (UMD)
• Control the multiviewer through Ethernet, RS232 serial port, keyboard/mouse commands, on screen display (OSD), front panel buttons, or IR remote
• Built-in 2-port USB hub - switch devices between connected computers
• In Full Screen mode, USB touch screen monitors can be used to control the connected active computer
• Compliant with USB 2.0 (high-speed and low/full speed) standards
• Cascade multiviewers to display video from any number of video sources on one screen
• Each video source in the cascade can be controlled directly from the Web server graphical user interface under custom mode settings
• Backup and restore multiviewer configurations
• Supported output resolutions can be selected or set to auto detect optimal resolution from the monitor's EDID
• 1RU dual rack-mount side-by-side units can be mounted so that the front panel buttons are facing the front or back of the rack
• Rack-mount unit includes cable management shelf
Package Includes
• Multiviewer
• One power adapter
• One DB9 female to RJ45 female adapter
• One 5 foot CAT-5e super flat cable
• One IR remote control
• Manual
• Cables not included
Required Cables (per port)
1x HDMI, male-male
1x USB, Type-A to Type-B