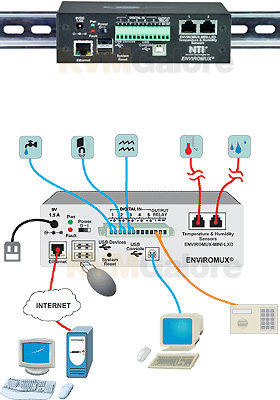 Buy this item and earn 303

Club

Points.
E-MINI-LXO-D: SNMP and Web monitoring/management of server room environments
with DIN rail mounting for industrial applications - provides early warnings before critical events turn into disaster
---
Highlights
• USB ports for flash drive, USB 3G modem & USB serial control
• 2 temp/humidity ports, 5 digital inputs, 1 output relay
• User-programmable IP camera snapshots
• Linux inside
• Requires external sensors (no built-in sensors)
Compare ENVIROMUX® Environment Monitoring Systems.
ENVIROMUX® Mini Server Environment Monitoring System monitors critical environmental conditions (such as temperature, humidity, and water leakage) that could destroy network components in your server room.
When a sensor goes out of range of a configurable threshold, the system will notify you via email, SNMP traps, web-page alerts, a visual indicator (red LED), voice phone calls (via Automatic Voice Dialer System), and SMS messages (via USB 3G modem).
Sensors Supported
• 2 temperature/humidity sensors.
• 5 digital inputs sensitive to contact closure.
• Sensors are hot plugable.
Features and Benefits
• Monitor and manage server room environmental conditions over IP.
• One output relay for control of external devices.
• Relay activates upon alarm or via the user interface.
• Supports IP network video cameras for live view of any facility.
• One integrated view - see different Web cameras side-by-side with physical and environmental parameters.
• Any programmed event can trigger a snapshot from an IP camera.
• Monitor (ping) up to 16 IP network devices.
• Alerts are sent if devices are not responding.
• Two USB ports for connecting USB modem or for downloading log data to USB flash drive, and one USB console port for serial terminal interface.
• Create multiple alerts for any installed sensor.
• Sensor conditions (events) can be configured to trigger alerts by themselves, and/or be used in combination with other events to trigger Smart Alerts.
• Configure up to 50 events.
• Up to 20 Smart Alerts can be configured to use different event combinations to send alert messages.
• Alerts are posted in message log, which is accessible through Web user interface.
• Integrates with various Open Source monitoring packages – Nagios and MRTG.
• Linux inside.
• Supports network security scanners.
• Backup and restore system configurations.
• Flexible Zero-RU mounting.
• Mounting tabs included.
• Use in data centers, co-lo sites, web hosting facilities, telecom switching sites, POP sites, server closets, or any unmanned area that needs to be monitored.
• Warranty: Two years
Security
• HTTPS
• SSHv2
• SSLv3
• IP Filtering
• LDAPv3
• AES 256-bit encryption
• 16-character username/password authentication
• User account restricted access rights.
Web Interface
• Configuration can be done over the Internet/LAN via Web page.
• Supports Internet Explorer 6.0 and higher, Firefox 1.5 and higher, Netscape 9, Google Chrome, Safari 1.3 and higher for MAC, and Safari 3.0 and higher for PC.
• Configure sensor's thresholds, alarm methods, formats of alerts, and system data log.
• View/edit sensors' current values, thresholds and alert statuses.
• All sensors connected to the ENVIROMUX-MINI-LXO can be viewed on one summary page.
• User configurable settings allow sensors to return to normal status when alert condition clears, without manually acknowledging/dismissing the alert.
• View/edit entries stored in the system logs.
• Event log records system events such as alerts, user login/logout, failed email messages, etc.
• Data log records samples of sensor readings. User specified sampling time period.
• Both the event log and the data log store up to 1,000 entries.
• The log can be downloaded as a tab-delimited plain text file.
• Configure IP information (address, subnet mask, default gateway, DNS, etc.), user administrative settings, and data logging settings.
• Up to 16 users can access the web page at one time.
• Configure up to 50 sensor conditions (events)
• Configure up to 20 Smart Alerts to use different event combinations to send alert messages.
Front Panel LEDs Interface
• "Fault" (red) lights up if a sensor goes out of range of a configurable threshold.
• "Power" (green) lights up when the device is powered/all clear.
USB Serial Interface / Telnet / SSH
• Configure, control and monitor over the text-based menu system accessible via USB console port, Telnet, and SSH.
• Access is controlled via username/password.
• System stores encrypted login information.
• Two user levels: user and administrator.
WAP Mobile Summary Page
• View summary page on WAP 2.0 compatible devices (smartphones, PDAs, cell phones, etc.)
• Supports Blackberry Software 4.2 and higher.
• Supports iPhones using Safari 3.0 and higher.
• Summary page lists all connected sensors' current values and alert statuses.
Open Source Monitoring Integration
• SNMP Plugin for Nagios
• Using Multi Router Traffic Grapher.