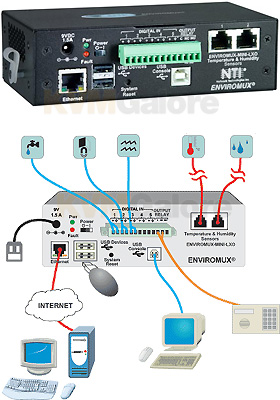 Low-cost SNMP and Web monitoring and management of server room and industrial high-temperature environments
provide early warnings before critical events turn into disaster
---
ENVIROMUX-Mini is a low-cost environment monitoring systems that monitors critical environmental conditions (such as temperature, humidity, and water leakage) that could destroy network components in your server room.
When a sensor goes out of range of a configurable threshold, the system will notify you via email, SNMP traps, web-page alerts, a visual indicator (red LED), and SMS messages (via external GSM or 3G modem).
ENVIROMUX-Mini features 2 temperature/humidity ports, 5 digital inputs, and 1 output relay for control of external devices. Linux inside.