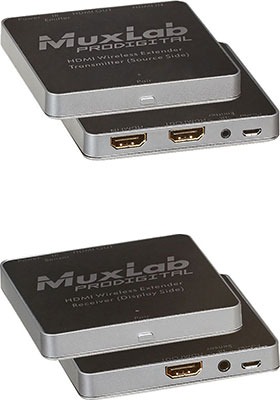 Buy this item and earn 301

Club

Points.
500780: Wirelessly connect an HDMI source to a remote display (point-to-point)
up to 100 feet apart at 1080p, optionally connecting up to four (4) displays for point-to-multipoint application
---
The wireless HDMI extender allows HDMI source and display to be wirelessly connected point-to-point up to 100 feet (30m) with line of sight between Transmitter and Receiver units at 1080p Full HD resolution.
In addition up to four Receivers may be paired with one Transmitter for point-to-multipoint applications (Receivers may be purchased separately).
Transmission through walls is possible with reduced distance performance depending on wall construction.
The Transmitter and Receiver form a private wireless network between both units, and do not require a router based wireless network to operate.
500780 supports H.264 video compression and an HDMI loop-out on the Transmitter unit.
The perfect solution for situations where a cable connection is not convenient, the wireless HDMI extender comes with one (1) Transmitter and one (1) Receiver as well as an IR Emitter and an IR Sensor for remote control applications.
Typical Applications
• Commercial and residential AV systems
• Classroom projector system


• Digital signage
• Boardroom systems
• Collaborative PC systems
• Home theatre
• Showroom
• Connectivity in hard to reach locations
Features and Benefits
• HDMI 1.3a (supports the 3D feature of HDMI 1.4)
• Supports up to 1080p and 3D resolutions
• H.264 video compression with <500ms latency
• Up to 100 feet (30m) line of sight between Tx and Rx
• HDMI loop-out on Transmitter
• Supports IR transmissions
• LED diagnostic
• Pairing button for quick and easy setup