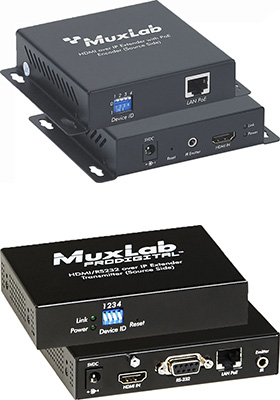 HDMI and optional RS-232 over IP extenders with PoE
The HDMI / RS232 over IP extenders with PoE allow HDMI equipment to be connected up to 330 feet (100m) @ 1080p via one (1) CAT-5e/6 unshielded twisted pair cable in a point-to-point configuration. Point-to-multipoint and multipoint-to-multipoint is possible by connecting several Transmitters and Receivers to the same Ethernet network.
Transmitters and Receivers also support PoE (PD) if used with a PoE (PSE) Ethernet switch.
IR emitters and IR sensors, if required, may be purchased separately for remote control applications.
For point-to-multipoint and multipoint-to-multipoint configuration the Ethernet switch must have Gigabit ports, DHCP Server capability and IGMP communications protocol. MuxLab recommends using the Cisco SG300 Series Managed Switches.
MuxLab Pro Digital Network Controller (500811) is available to simplify configuration, control and utilization of MuxLab IP based products via an Ethernet web interface, and supports third party management via smartphone and tablet.
500752: HDMI over IP Extender Kit w/ PoE
500753: HDMI/RS232 over IP Extender Kit w/ PoE
500754: Video Wall over IP Extender Kit with PoE