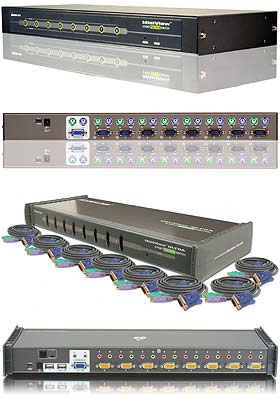 MiniView PS/2
Control up to 512 PS/2 computers through one PS/2 console, with auto-scanning, hot-key port selection, optional OSD and audio
Read more below...

$102.66
Compare to MSRP $129.95 -
You save $27.29

$284.00
Compare to MSRP $359.95 -
You save $75.95
8- and 16-port PS/2 KVM switches
with auto-scanning, hot-key port selection, optional OSD and audio
---
With their 1U, 19" rack-mountable casing, status-monitoring LEDs, and hot Key technology that allows switching ports easily using the keyboard, IOGEAR's MiniView 8-port and 16-port MiniView KVM switches are just the tool you need to help reduce the need for redundant hardware. Now you can control up to 512 computers with a single keyboard, monitor and mouse.
MiniView™ Ultra adds a built-in AutoScan mode that lets you conveniently monitor every attached computer for a specified amount of time, while its On Screen Display technology allows you to assign a unique name to each computer and access it via a slick, menu-driven interface.
Miniview Ultra+ adds support for higher video resolution, audio support, and a dual interface support that allows you to connect both PS/2 and USB computers on the same switch. The multi-platform support allows you to control Windows-based computers, Sun Solaris systems, Linux, or even Macs by a single KVM switch, with support for the special keys on both Sun and Mac keyboards.