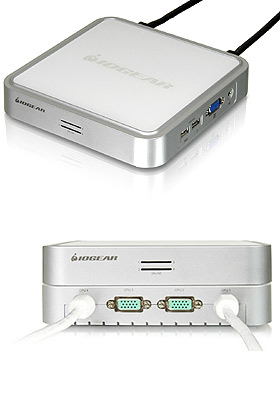 Buy this item and earn 65

Club

Points.
GCS634UW6: 4-port USB KVM switch with built-in KVM cables and audio support
Introducing the four port MiniView Micro USB KVM switch from IOGEAR the simplest way to simultaneously run and share audio among four computers with a single USB keyboard, monitor and USB mouse.
This self-powered KVM switch features the unique USB sniffing technology for USB mouse and keyboard emulation to ensure smooth operation, as well as support for Plug-n-Play monitors and most wheel mice. IOGEAR's patented VSE Video Signal Enhancement technology provides rich, 32-bit color at resolutions up to 2048x1536.
Another big plus is the MiniView capability to provide audio support, it allows you to share your multimedia speakers among the connected computers.
This switch also offers multi-platform support; it compatible with Windows and Mac computers as well as Sun Solaris workstations. IOGEAR delivered a huge breakthrough in KVM operation to Mac and Sun users by enabling functionality for the special keys on these systems. When using a PC keyboard, a special set of hot keys are designed to emulate the special keys on Mac and Sun machines.
The Miniview Micro USB KVM has two 6' long KVM cables molded-in, all you need to do is to plug it into your computers and you'e got a complete KVM solution from IOGEAR. In addition, it has two other available ports to connect them to your computers for future expansion.
Features and Benefits
• Control up to 4 computers from a single video, USB keyboard and USB mouse
• Expandable & extendable: two 6' molded-in cables, two detachable cables
• Full support for Mac, PC & Sun systems
• Supports Mac & Sun special keys
• Connect speakers to enjoy audio from any connected system
• Select system by tapping Hot Keys on keyboard
• Instant, error-free boot-up
• Plug-n-Play
• 2048x1536 video resolution support
• Requires no software
• Requires no external power
• Tri-lingual (English, French & Spanish) packaging
Package Content
1x MiniView Micro USB KVM Switch
2x detachable KVM cables (6-feet)
1x User Manual
1x Quick Start Guide
1x Warranty Registration Card