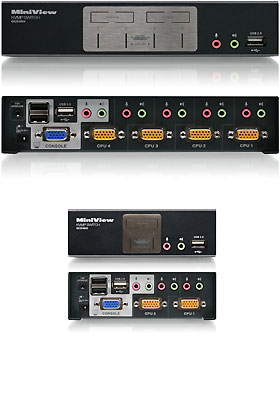 MiniView KVMP
2- and 4-port USB and PS/2 KVM switches with a 2-port USB 2.0 hub, 2.1 stereo audio, On Screen Display, display emulation and cables
Read more below...

2- and 4-Port KVMP Switches with 2.1 Audio, On Screen Display, Display Emulation and Cables.
The MiniView KVMP is a KVM+Peripherals switch with stereo audio ports and an integrated 2-port USB 2.0 hub. Now users can control two or four computers and share multiple USB peripherals from a single keyboard, monitor, and mouse console.
MiniView KVMP features the patented asynchronous switching, which allows the user to independently switch applications between the connected computers. You can run an application on one computer while running another application on the other.
Moreover, the integrated 2-port USB 2.0 hub is available for each computer to share multiple peripherals connected directly to the hub or via daisy chaining external powered USB 2.0 hubs. Access to such peripherals is performed on a one-at-a-time basis.
Additionally, the display emulation technology makes the switch intelligent to read and remember the monitor's optimal display parameters and refresh rate. Finally, the audio ports allow for connecting powered PC speakers for stereo sound and a single microphone for audio input/output to each computer.
Switching between computers can be done in three convenient ways:
1) Push button port selection located on the unit's front panel
2) An On Screen Display (OSD) selection panel, and
3) A "Hotkey" programmable combinations entered from the keyboard.
Setup is fast and easy: simply plug the cables into their appropriate ports. There is no software to configure or install. Also, the included USB to PS/2 converter permits flexible configurations for the keyboard and mouse.