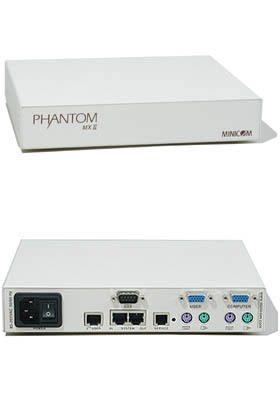 Buy this item and earn 663

Club

Points.
0SU52016: CAT-5 based, 2-user, KVM user station for Phantom Specter
With Phantom MX II two users can simultaneously control and manage up to 63 servers in mixed, multi-platform environments (PS/2, SUN, RS-232, USB) from two separate KVM consoles. This makes it an ideal solution for larger data centers that require more than one supervisor and need the flexibility of operating from both local and remote locations.
Advanced Management and Security Options
Phantom MX II features advanced On Screen Display (OSD) management, including multi-layered security, the most efficient way for monitoring, accessing and controlling your servers. You can also manage your Phantom system, via serial port, using the Phantom's Control Software or any other third party software.
Less Switch Space Means More Server Space
Phantom's Distributed Switching Technology (DST) divides the KVM switch into smaller subunits: two Managers and multiple Remote units. The Remote units can be placed on the side or back of the rack (Specter II Units) where they occupy no rack space! Now you can dedicate more of your rack to servers instead of wasting space on switches.
Features and Benefits
• Non-blocking, multi user control of up to 63 servers on a single line
• Mixed Multi-Platform Support - PS/2, Sun, USB, RS-232
• Flexible server/KVM console placement up to 360 feet away
• Advanced OSD management and multi-layered security
• Pure hardware solution - BIOS level access
• Low density CAT5 cabling that ends cable clutter