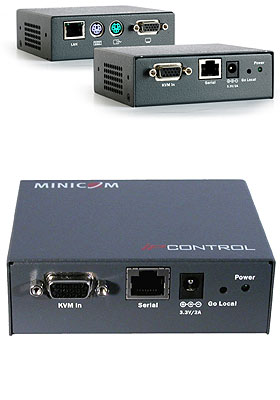 Buy this item and earn 409

Club

Points.
0SU70017: PS/2-VGA KVM IP control
with local-console support and remote serial access
---

IP Control is a state-of-the-art IP device for remote, out-of-band KVM access to computers and servers. It provides KVM/IP access and Serial/IP control for data centers and server rooms that use legacy KVM systems to manage their IT hardware.
A uniquely affordable IP extension device, IP Control is ideal for mainstream desktop environments and small-medium businesses that run mission-critical applications at remote locations.
Third party KVM support
IP Control is designed for compatibility with your installed KVM base, making it the perfect add-on device. You can attach the palm-size IP Control to almost any switch or server. It comes with configuration definitions for all Minicom and most 3rd party KVM switches.
Superior video and mouse performance
Featuring proprietary technology, IP Control provides superior video quality, mouse control, and BIOS level access over LAN, WAN and Internet. This enables a remote user's experience to look and feel local even though it's over an Internet TCP/IP connection.
Control KVM and Serial devices remotely and safely through single interface
The built-in Serial port enables remote Serial control of power switches, routers, headless servers, and power management devices with secure, 128-bit SSL encrypted access.
Ideal for digital signage remote player control
IP Control enables control and maintenance of remote digital signage players from a central control room. It provides command, in real time, and with virtually no extra cost, of content running on any number of video servers and enables troubleshooting even when the operating system is down.
Features and Benefits
• BIOS level access of computers and servers from any location
• Proprietary video compression algorithms for near-local video performance and mouse synchronization
• Configuration definitions for most KVM switches
• Secure, 128-bit SSL data encryption
• Remote Serial control of power switches, routers and other devices